Diversity Exec Says Fighting Health Disparities Requires Less Talk, More Action
Candi Castleberry, Twitter's vice president and a longtime AHA volunteer and Go Red for Women Circle of Red member, calls for companies to take prompt action on erasing health disparities and racial inequalities.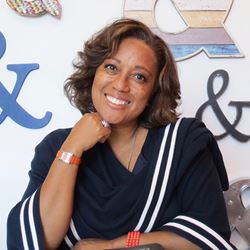 Candi Castleberry has one message for those who have been talking about diversity, inclusion and the Black Lives Matter movement in recent months: Talk is cheap.
"A lot of people have great words, but there's a big difference between words and actions. Don't just say it. Do it," said Castleberry, vice president of diversity partnership and engagement at Twitter. "Do something to create a change."
Reaching Out to Historically Excluded Communities
Leading by example, Castleberry has been a longtime volunteer for Go Red for Women, the American Heart Association's signature initiative to support heart-health awareness, education and research to improve the lives of women globally. As a Circle of Red member who has also served on an AHA diversity committee, she is impressed by how the organization reaches out to Black and Hispanic women, as well as other women who belong to historically excluded communities.
"The AHA intentionally ensures that women of color are a part of who they are and not just a photo in a brochure," she said. "There's still more work to do, but I'm pleased by how much progress they've made over the years and how committed they are to diversity and inclusion."
For Castleberry, volunteering with the AHA has always been personal. As a high school student, she learned the hard way about the importance of cardiovascular health.
"Our family never talked about heart disease until my grandmother had multiple strokes and died from a stroke when I was 16," she said. "She was my best friend, and to see her in the hospital after a stroke is something you never forget."
After earning an MBA from Pepperdine University, Castleberry worked in diversity initiatives at Motorola, Xerox and the University of Pittsburgh Medical Center, a global health system with more than 80,000 employees. While at UPMC, she became passionate about helping erase disparities in health care.
"To change health disparities, you have to change the ecosystem and integrate it into every single thing you do," Castleberry said.
Education is Key
She pointed to education as a key to healthy living and opening up "the pipeline of diversity" for future scientists and medical professionals.
"Everyone needs access to a quality education beginning as early as pre-K, and if we miss those early milestones, we have wiped out a generation of young people who will potentially pursue math and science degrees," she said.
CEOs and other business leaders need to step up and do everything they can to erase health disparities and racial inequalities, she said.
"They need to re-evaluate not only who they're hiring, but where they're distributing their philanthropy. They need to double down and support diverse organizations and close the gap" in communities that need more access to care among other things, she said.
Since the COVID-19 pandemic began, Castleberry has been working from home and "actively trying to manage the stress and stay sane" by meditating, exercising with others on Zoom and reading as much as she can about healthy living habits.
"I have to say, I've learned a lot from the American Heart Association website, which has a million things to help you."
But the pillar of Castleberry's work-at-home routine has been her daily reminder to focus on hope, strength and positivity.
"I can't always control what's happening outside, but I get up every morning with the intention of making a difference in the lives of others and doing my part to make the world a better place," she said. "When I do that, I start each day with a win."
---