Health Executive Raises Awareness the Dangers of Heart Disease
National Go Red for Women Leadership Council member Barb Jacobsmeyer uses her platform to increase awareness about cardiovascular disease – the No. 1 killer of women.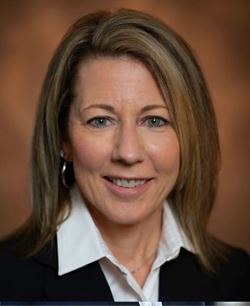 Newly minted national Go Red for Women leadership council member Barb Jacobsmeyer is still haunted by the fact that her then 70-year-old mother called her rather than dialing 911 when she developed severe chest pains.
"She was afraid she would get to the ER and have it be nothing," Jacobsmeyer said. She instructed her mother to call 911 and drove straight to her house, arriving at about the same time as the paramedics, who confirmed she was having a heart attack and saved her life.
"What if she hadn't called me that night?" she wondered aloud. Her mother recently celebrated her 84th birthday.
Her youngest brother later died of a heart attack at 41, further fueling her determination to raise awareness about the dangers of heart disease.
Before joining the Go Red for Women National Leadership Council, Jacobsmeyer served for three years on the leadership team for the American Heart Association in Birmingham, Alabama, a role she continues to serve in. Among her many achievements, she coordinated CPR training for hundreds and significantly expanded the number of members in the local Circle of Red, — a powerful group of individuals who have made a commitment to fighting the No. 1 killer of women. Jacobsmeyer is also helping build for the future of Circle of Red through her role on the National Leadership Council.
Those accomplishments aren't surprising given her background, which includes both leadership roles and early in her career, working one-on-one with people as an in-patient physical therapist.
"We worked with patients at the most vulnerable time of their lives," she said. "I loved taking care of them and watching them progress."
Tapped for a supervisory role after a year, she ultimately received a master's degree and moved into the executive suite as chief operating officer for Des Peres Hospital in St. Louis. In 2007, she joined Encompass Health (formerly HealthSouth) as a CEO in one of their rehabilitation hospitals. She was promoted in 2012 to regional president and in late 2016, she accepted the role of executive vice president of operations for Encompass Health.
The definition of hands-on, she visits at least half of the organization's 139 hospitals every year.
"It's fun for me to go out and visit with patients and staff," she said. "I have the honor to influence over 30,000 employees, which indirectly impacts their patients. That's a really cool feeling."
One of the only Encompass Health executives with hands-on clinical experience, Jacobsmeyer brings a different and broader perspective to her position, balancing the needs of her staff and patients with the numbers side of the business.
Among the initiatives she has spearheaded is an employee engagement program, surveying regularly and incorporating that feedback into best practices. Employee engagement scores have increased year over year for the past five years and quality metrics are also on the rise.
"I'm very passionate about employees feeling good about where they work," she said. "We've seen time and time again that hospitals with the highest employee engagement tend to have the top patient experience."
Indeed, while the hospitals under her watch were undeniably affected by COVID-19, her employees reacted nimbly to minimize the trauma. They helped patients make video calls to family and put room numbers on windows so well-wishers could stand outside and wave.
A committed champion for the mission in communities across the country, Encompass Health and its locations across the country have supported the American Heart Association and American Stroke Association's initiatives through local programming and educational opportunities as well as through a national sponsorship. Encompass Health is currently a national sponsor of the American Stroke Association's Together to End Stroke initiative and activate through Go Red for Women to help further educate women on stroke. Recently, Encompass Health announced their continued support of the American Heart Association's lifesaving mission.
While overseeing Encompass Health's network of hospitals and volunteering with the American Heart Association can be all-encompassing, Jacobsmeyer enjoys spending her downtime with her husband of 32 years, Rick, their grown children and their dogs, Brady and Toby.
And aware of her family history of heart disease, high blood pressure and high cholesterol, she stays active by golfing, hiking and jogging regularly.
"I joke with my kids that I'm truly running from my genes," she said. "There's nothing I can do about my genetics, but I do have some control. I'm passionate about that."
---