Go Red for Women Movement Welcomes New Chair with Personal Connection to the Mission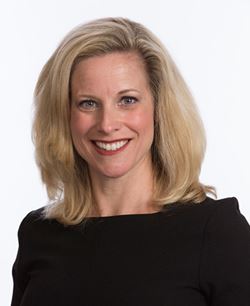 Each year, the nation "Goes Red for Women" raising awareness of a woman's No. 1 killer – cardiovascular disease. Thanks to the generous support of CVS Health as the national sponsor of the Go Red for Women movement, women in communities across the country are invited to join the movement and learn more about their own health and risk factors.
Since teaming up with the AHA in 2017, CVS Health has raised nearly $20 million to help fight cardiovascular disease, which is a woman's greatest health threat, killing more women than all forms of cancer combined.
Angie Meoli, who leads Network Strategy and Provider Experience at CVS Health, was recently welcomed as the new chair of the Go Red for Women National Leadership Council. Meoli is now leading the collaboration with the American Heart Association succeeding Lisa Bisaccia, who recently retired from CVS Health.
"I'm honored to be the incoming national chairperson for the American Heart Association's Go Red for Women movement, and I thank Lisa Bisaccia for her leadership and many contributions," Meoli said.
"CVS Health colleagues are united around a common purpose of helping people on their path to better health, which makes us the perfect partner for the American Heart Association," Meoli continued. "That's why I'm so excited to continue our relationship. The funds we've raised together are helping to advance education and research that will help save the lives of moms, wives, daughters and sisters everywhere. I look forward to what more we can accomplish together."
As Meoli steps into the role of National Chair of the Go Red for Women movement, she says she is honored, and the mission has a special purpose for her.
"My dad had his first stroke at age 52, and he had three more before he passed away at age 72," she shared. "Heart health is always on my mind and working with the American Heart Association is a great opportunity for me to help improve the lives of others."
With new research showing women in communities of color and younger generations of women, Gen Z and Millennials, are less likely to be aware of their greatest health threat, Meoli stresses the importance of knowing the warning signs.
"Even though cardiovascular disease claims more women's lives than all forms of cancer combined, many are still unaware of its impact," said Meoli. "There is a real opportunity to save lives by raising awareness, especially among young women."
While the Go Red for Women movement has truly made an impact over the last 17 years, reaching millions of women across the country, both the American Heart Association and CVS Health know their work is not yet complete.
"Nobody can meet the challenge of addressing cardiovascular disease alone," Meoli said. "That is why it's important for all women to come together and join the movement."
This May, CVS Health continues its commitment to addressing a woman's greatest health threat. CVS Pharmacy customers will have an opportunity to give the gift of heart health by asking the cashier to make a donation at the register at their local CVS Pharmacy stores starting May 2, 2021. Customers can support Go Red for Women by making a $1, $3 or larger donation at CVS Pharmacy stores nationwide or online at https://www.cvs.com/content/gored.
---