Real Woman Alumni 2017-2018 Tamika Quinn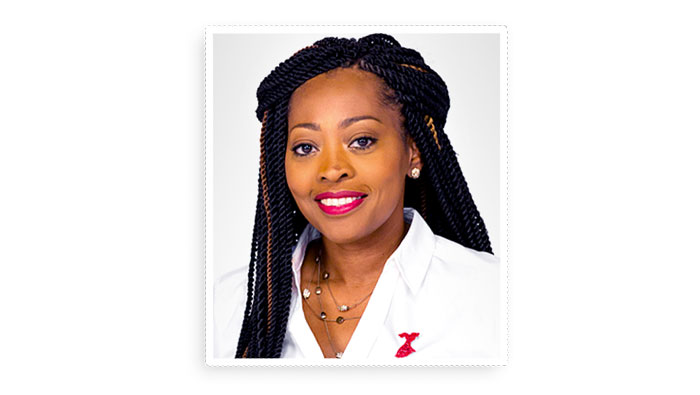 If you're like many women, chances are you go to great lengths not to burden those around you. But the signs of stroke demand immediate attention.
Ten days after Tamika Quinn's daughter Sequoia was born, she woke up with an excruciating headache. Her regular doctor wasn't available so she went to an urgent care clinic where she was given painkillers and medication for high blood pressure. The pain intensified, so Tamika went to the ER where she was diagnosed with a hemorrhagic stroke, followed by a second stroke three days later.
It took months for Tamika to recover her ability to walk and speak, and she continues to deal with long- and short-term memory loss and muscle control.
The strokes were a wake-up call to take her health more seriously. She took her medication as prescribed and lost weight.
But after four years, Tamika went back to overeating and eating unhealthy foods, and not taking her blood pressure medication. After talking to her doctor about a migraine, Tamika learned her blood pressure had gone back up.
"My doctor told me I was headed down the path to have another stroke," she said. "I realized I needed to get my life together."
Signs that you may be having a stroke:
Sudden numbness or weakness of the face, arm or leg, especially on one side of the body
Sudden confusion, trouble speaking or understanding
Sudden trouble seeing or blurred vision in one or both eyes
Sudden trouble walking, dizziness, loss of balance or coordination
Sudden severe headache with no known cause
You should never wait more than five minutes to dial 9-1-1 if you experience even one of the signs above. Remember, you could be having a stroke even if you're not experiencing all of the symptoms. And remember to check the time. The responding emergency medical technician or ER nurse at the hospital will need to know when the first symptom occurred.
Stroke is not only the No. 4 cause of death in the United States, it's also a leading cause of severe, long-term disability. That's why it's important to take action immediately. Research conducted by The American Stroke Association shows that patients who take a clot-busting drug, or thrombolytic, within three hours of their first stroke symptom can reduce long-term disability from ischemic stroke – the most common type, accounting for about 87 percent of all cases.
When you know the signs of stroke, the life you save could be your own or someone else's. Learn to spot the signs of stroke, or spot a stroke F.A.S.T. (Face drooping, Arm weakness, Speech difficulty, Time to call 911).
Learn more about your risk for heart disease and stroke as well as factors that increase your risk.
---