Family Inspires Women's Health Advocacy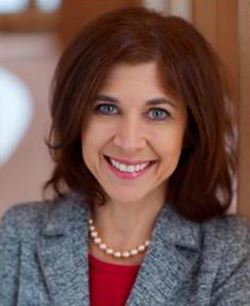 How one leader joined the Go Red for Women movement for her mother, but stayed for her daughter.
After her mother died from a heart attack six years ago, Christine Katziff started on a mission. She'd do everything she could to keep other families from going through the anguish she and her family did.
"I want people to hear the stories, to know the symptoms," said Katziff, whose involvement with the American Heart Association in Charlotte, North Carolina, led to being named a member of the Go Red for Women National Leadership Council. "I don't want this to happen to another family."
"As a member of the council, we can have a true impact," she said. "As women, we can do anything we want when we put our minds to it."
Losing her mother, Jean, caught Katziff completely off guard. Her mother was fit. She didn't smoke. She worked out regularly. She ate healthy foods and maintained a healthy weight. She was a very vibrant 68 and was visiting Charlotte to attend her twin grandsons' high school graduation when she began feeling poorly one day.
No one associated her backache, nausea, clammy and sweaty skin with a heart attack. Everyone just assumed she was coming down with something. But when Jean went to lie down, she unfortunately never got back up.
"Before my mother's death, I had a perception of what a person who had a heart attack would look like, and it wasn't her," said Katziff, chief audit executive for Bank of America. "In the aftermath, we wondered, 'How did this happen? She's healthy. She walks every day.'"
Searching for answers, she landed on the Go Red for Women website. She not only found her mother's symptoms; she also learned that 80% of heart disease is preventable. Katziff got involved, chairing Go Red for Women Charlotte in 2019 and 2020.
"We did a lot to raise awareness about the importance of knowing your numbers, the signs and symptoms of a heart attack in women and educated people on how to perform CPR," she said. "Educating more people about cardiovascular health was the primary focus for our campaign. We knew that if we did that well, then the donations would follow."
Donors did come. Charlotte became the first city in the Southeast to raise $1 million for the Go Red for Women campaign. Plus, the message was getting out. One of the bank's own employees suffered a heart attack six weeks after a Go Red for Women fundraising breakfast.
"Had she not been at the breakfast," Katziff said, "she wouldn't have known she was having a heart attack. That's what it's all about."
Katziff was only getting started.
"It was such a fun experience and we had great results," said Katziff, who credits her mother, grandmother and aunt with being encouraging, resilient role models. "When one of our local team members asked if I would be interested in the position on the National Leadership Council, of course, I said yes."
Since then, she's been very vocal in making sure the message gets out.
In February, she moderated a panel for American Heart Month that was made available to more than 200,000 Bank of America employees worldwide. She brought CPR and AED (automated external defibrillator) training to her division as well as to events in Charlotte for bank employees.
"We're are focused on promoting the importance of wellness for our employees," she said.
Bank of America employees have donated 4,000 volunteer hours to the American Heart Association. Company CEO Brian Moynihan chairs an AHA roundtable for 40 CEOs across the country who share the mission to help their employees be healthier.
"What makes me excited is joining forces with other amazing women on the National Leadership Council so we can have a true impact — so we can change the outcome of women and heart health," Katziff said. "Heart disease affects women of all ages, of all backgrounds, of all shapes and sizes, and most of it is preventable.
"We have to understand the risk factors, and the signs and symptoms. My main message: It impacts all of us. I want women to put their own self-care at the top of their priority list. We're so good at taking care of everyone else that we often don't take time for ourselves."
In addition to her twin sons, Katziff also has a 26-year-old daughter, Stacey. She tells people she got involved with Go Red for Women for her mother; she stays involved for her daughter.
"I am extremely passionate about helping women understand that we are at risk for heart disease," she said. "My mother's legacy lives on through us. I often think about that. If we create awareness so others don't go through what we did, that's how I've helped."
---