Managing Your Medicines: Our Guide to Effective Medicine Management (Brochure)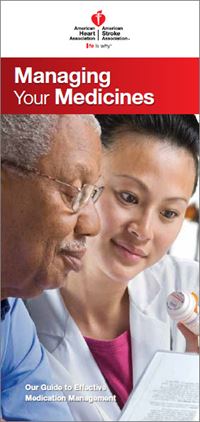 Published by: American Heart Association
Product Code: 50-1664
Contains tips and tools to help readers learn new strategies for medication adherence and adopt and maintain healthy behaviors. Its positive, upbeat tone encourages readers to become active participants in their health care and urges them to work closely with their healthcare provider(s). The back cover features a tear-out card for tracking medications, cholesterol, weight and blood pressure.
If you are interested in receiving a sample of this brochure, please complete our product order form. Requests are limited to residents of the United States and to no more than one packet and two brochures per household.
If you are interested in placing an order, receiving print samples or viewing online e-samples, visit our distributor, Krames. Registration is required to request samples and order online.
---