Peripheral Artery Disease Resources
Fact sheets, videos and other tools to help you manage PAD.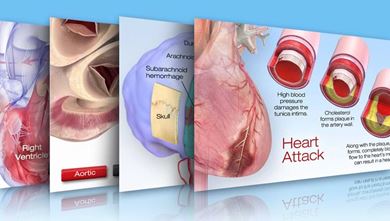 Watch, Learn and Live
See detailed illustrations of PAD and how it affects your body.
AHA's PAD Initiative
AHA is leading bold steps to transform the approach to PAD and save lives.
PAD Educational Series
Hear from medical experts and patients living with PAD in our podcast and video series.
PAD Symptoms and Risk Factors
If you have cramping, tingling or weakness in your legs, you might have peripheral artery disease, also known as PAD. PAD can lead to leg or foot amputation and even heart attack or stroke. Early detection is key!
If you have trouble with your feet or legs, talk to a doctor about PAD and ask to take off your socks.
Symptoms of PAD
The pain of PAD often goes away when you stop exercising. Many people with PAD have no symptoms or mistake their symptoms for something else.
PAD Discussion Guide
Prepare so you can get the most out of your appointment.

Check off the questions you want to ask and learn as much as you can about your condition.
Support That Lifts You Up
Our online community of survivors and caregivers is here to keep you going no matter the obstacles. Discover support from others living with PAD.
Make Changes That Matter
Find help making lifestyle changes with these downloadable sheets.
PAD Personal Stories
Facing PAD can be a daunting task. You have every reason to be hopeful and positive about your outlook.
You're in good company: hear from other patients sharing their experience with PAD.