Check for the Heart-Check Mark Infographic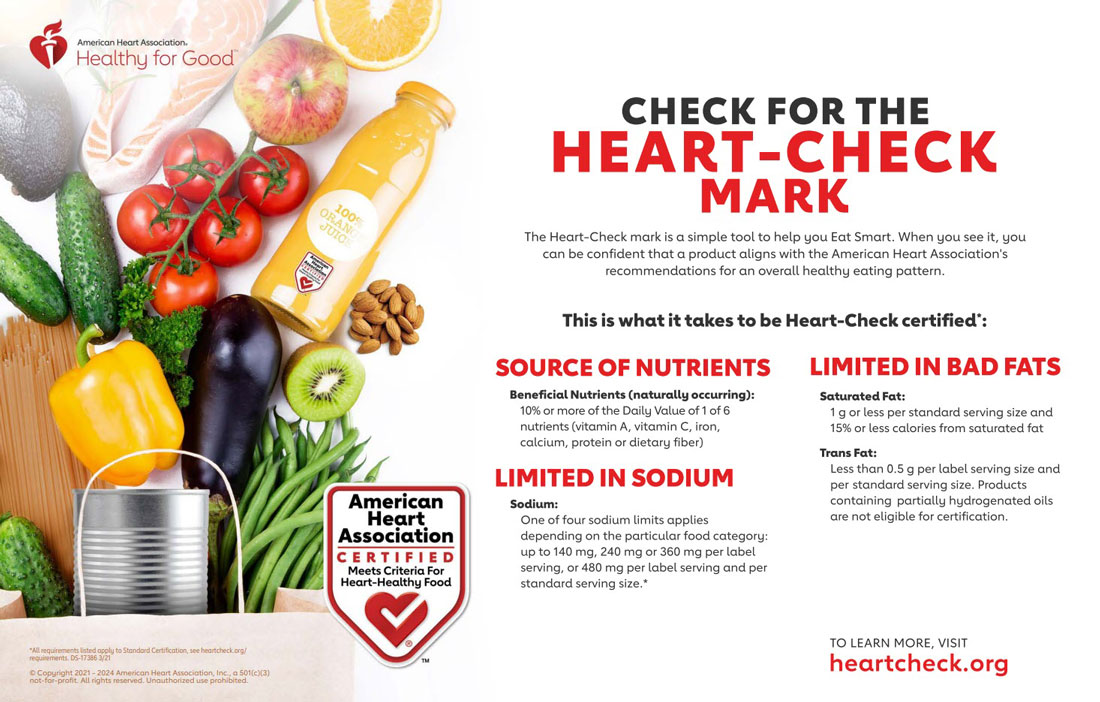 Check for the Heart-Check Mark
The Heart-Check mark is a simple tool to help you Eat Smart. When you see it, you can be confident that a product aligns with the American Heart Association's recommendations for an overall healthy eating pattern.
This is some of what it takes to be Heart-Check certified*:
Source of Nutrients –
Beneficial Nutrients (naturally occurring): 10% or more of the Daily Value of 1 of 6 nutrients (vitamin A, vitamin C, calcium, protein or dietary fiber)
Limited in Bad Fats –
Saturated Fat: 1g or less per standard serving size and 15% or less calories from saturated fat; Trans Fat: Less than 0.5g per label serving size and per standard serving size. Products containing partially hydrogenated oils are not eligible for certification.
Limited in Sodium –
Sodium: One of four sodium limits applies depending on the particular food category: up to 140 mg, 240 mg or 360 mg per label serving, or 480 mg per label serving and per standard serving size.*
*All requirements listed apply to Standard Certification, see heartcheck.org/requirements.

To learn more, visit heartcheck.org.
---
Certified Foods in the Grocery Store
Use Heart-Check's digital grocery list tool when creating your shopping list to make smart, heart-healthy choices easier at the grocery store.
The digital grocery list is updated daily. It's always ready for your next grocery run!