Bridging Needs with Philanthropy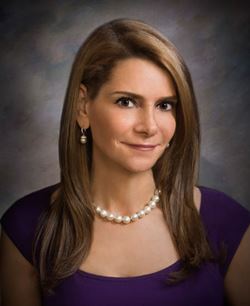 Women's heart health is her timely, personal and corporate cause.
Liz Elting is an expert in spotting gaps and filling them with a needed service. That instinct led her to business success, better heart health and the Go Red for Women National Leadership Council.
An entrepreneur at heart, Elting sold her worldwide translation business to become a philanthropist and social investor. In 2020, when the COVID-19 pandemic struck, her Elizabeth Elting Foundation launched the multimillion-dollar Halo Fund. This fund invests in specific, holistic solutions to stabilize food, housing, income, health care and child care for people in need — especially women.
Elting also made a significant gift to help launch the American Heart Association's Bernard J. Tyson Impact Fund in 2020.
"My foundation bridges the opportunity gaps for marginalized communities, especially women," Elting said. "The Bernard F. Tyson Impact Fund supports social entrepreneurs to dismantle socioeconomic barriers to health equity. It's like venture capital for social entrepreneurs, and I love the way it's not just investing once — it's growing community businesses that have a long-lasting effect over time."
The Go Red for Women National Leadership Council is a powerful group of women who focus on improving the health of all women inside their companies, their communities and across the country. Elting is a natural fit because of her long-term commitment to women's heart health and her family medical history.
The company she co-founded, TransPerfect, put her on the Forbes list of "Richest Self-Made Women." Revenue exceeded $600 million, reaching more than 90 cities globally through more than 4,000 employees.
A decade ago, Elting recalled, "Some terrific women approached me about supporting AHA, and what better cause can there be than fighting the number one killer of men and women? Nothing could be more important. Saving one life can make a difference, and that is why I initially got involved. I love the idea of meeting and working with like-minded women leaders in addressing heart disease."
Women made up 60 percent of Elting's workforce, and TransPerfect celebrated Go Red for Women by matching employee donations and encouraging employees' cardiovascular health, including CPR instruction. Elting joined Go Red for Women in New York City and served on its executive leadership team, co-chairing the campaign for two years.
"The team at AHA have been a joy to work with, real professionals, and run the organization in a good way, like a business," she said. "I appreciate that they are not solely focused on heart disease directly and find other ways across the board to improve heart health by addressing social determinants [such as gender, race and income]."
Heart disease has affected Elting's family as well. One grandfather died at a young age of a heart attack, and Elting never met him. A grandmother suffered multiple strokes. Four years ago, Elting's husband, Michael Burlant, went through major heart surgery.
In her 20s, Elting discovered that she had naturally high levels of cholesterol. "I was always trying to address it through exercise and diet," she said. "I was even making oat bran muffins."
At that point, Elting was like a lot of women today: She was not aware of the best resources and choices for her heart health.
"I could not control my cholesterol on my own," she said. "By the time I got to my 40s, I was referred to a cardiologist and I went on cholesterol medication. Now my cholesterol is totally under control, one of the many benefits of seeing a heart specialist."
Her journey inspires Elting to help women everywhere recognize the signs of heart trouble.
"A heart attack for a woman is not necessarily like the chest pains that the media depicts," she noted. "Women tend to have more atypical symptoms, like upper back pain, nausea, fainting and indigestion. Without awareness of these symptoms, women are less likely to seek medical action for themselves."
Bridging that gap is her target now as a National Leadership Council member.
"Our mission is raising awareness and education and being advocates for women's health and health equity," she said. "Doctors and nurses need education about listening to women patients, because data shows that they take women's pain less seriously than men's. Ultimately, education will save more lives, and we're on the road to that goal, but there are many more lives to be saved."
"Far too many women die from cardiovascular disease," she added. "Our overall goal is to continually reduce those deaths. In an ideal world, no one would die from that. We want to reduce and eradicate cardiovascular disease, and I believe in women's collective power to make a difference."
---