Loss Leads to Lifesaving Leadership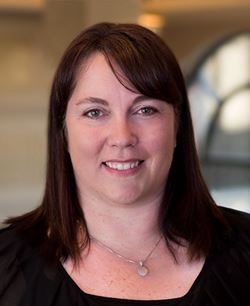 Leadership in lifesaving cardiac solutions stems from family loss.
Cardiovascular disease is personal for Stacy Beske, a researcher and leader in lifesaving cardiac technology and one of the newest Go Red for Women National Leadership Council members.
At the medical technology company Medtronic, Beske is vice president for global marketing and business strategy for cardiac ablation solutions, where she influences messages about the company's products for hearts that beat abnormally. She's motivated by her own losses, hoping to affect change so other women and families don't have to go through the same thing.
"Women need to become a priority for the health care system, and women need to make their health a priority and feel empowered to prevent cardiovascular disease," Beske said. "If we can prevent one person's grandmother or mother from passing away early, we are successful."
Beske's mother gave birth to her at age 16, and their lives in New Mexico were not easy. Sometimes they were homeless, and Beske saw firsthand that their access to quality healthcare was limited.
"For us, health disparities were pretty relevant and prevalent," Beske recalled. "I always wanted to strive for something more, and education was a way to change that."
The Go Red for Women National Leadership Council is a powerful group of women who are paving the way when it comes to improving the health of all women. Beske's way was paved by her grandmother, Grayce Beske, who had served as one of the first women in the U.S. Army Corps of Engineers, later working as a model and singer.
She taught her granddaughter to stay observant and optimistic, and imparted this lasting advice: "Look for the learnings in everything you do. No job is too small. You can learn from every person you come in contact with."
Beske used this wisdom to earn an undergraduate degree in exercise physiology and a Ph.D. in cardiovascular physiology, supported by an American Heart Association fellowship and grant. At 37, Beske was moving up at Medtronic and had young children of her own when her grandmother, 80, and mother, 53, died of cardiovascular disease within the same year.
"Cardiovascular disease was my academic passion," Beske said. "When my mother and grandmother were taken from us, I really wanted to give back. There was not a lot we could do for them at that time, but great advancements since then could have made a difference. I'm glad to be part of bringing those technologies to the medical community."
Beske works in cardiac ablation (sometimes just called ablation), a therapeutic method used to destroy a small section of heart tissue that is causing abnormal electrical activity or irregular heartbeat. Electrodes help identify the site of abnormal activity, then deliver radio frequency energy (RF ablation) or intense cold (cryoablation) to destroy the tissue.
While she's focused on strategies and products that improve cardiac health for all, "we pay extra attention to those groups that are underrepresented, like women," Beske said. "Women put others ahead of their own health, often at the expense of their own preventive care."
"We are cognizant that women experience more diffuse, broad signs of cardiovascular disease, and different barriers to responding to those signs. We ensure that anything that Medtronic puts out about cardiac ablation is heard by all audiences and is spoken with a voice that resonates with women and all audiences."
As a member of the Go Red for Women National Leadership Council, Beske is committed to reaching others both at work and in her community.
"Part of my service is speaking to women's groups about the signs and symptoms of cardiovascular disease, and breaking down symptoms," Beske said. "There is a lack of knowledge around nutrition and how that connects to cardiovascular disease. One thing I often hear from women, typically older women, is that exercise is not good for them because they will get bulky. Or they are not strong enough to exercise. Physical activity doesn't mean a woman has to run a marathon."
As part of her role on the National Leadership Council, Beske is excited about leading the STEM Goes Red efforts, which support young girls exploring their potential to have an impact on the world through science, technology, engineering and math. STEM Goes Red engages young women and works to increase the number of women pursuing STEM degrees and giving students tools and resources for good health. As cardiovascular disease remains the No. 1 killer of women, Beske believes that ensuring more women are at the forefront of developing STEM solutions has never been more imperative.
She's already chairing a 2023 Go Red for Women event in Minneapolis, where she lives. Her co-chair is her teenage daughter, Skylar. The lessons, learnings and lives of the Beske women are creating a legacy of cardiovascular health for women far beyond their family.
---