2021 Woman of Impact Winner Fort Worth - Barbara Peace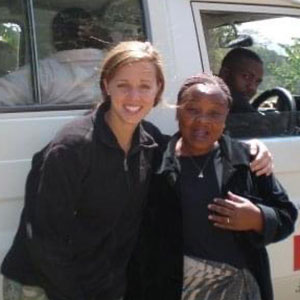 Hands-Only CPR became pediatric nurse's platform.
As Barbara Peace stared at a picture of her and her two sisters from her wedding, she reflected on their fate.
"You think of all the women in your life and how heart disease impacts women," said Barbara, a pediatric nurse in Fort Worth, Texas, who often cares for children with lifestyles and conditions such as vaping, obesity and diabetes that could lead to heart disease. "I have two sisters and so, statistically, one of us will die of cardiovascular disease, which is totally unacceptable."
That's why, Barbara said, "My whole platform is always prevention. The hospital should be your last resort."
Barbara's passion for prevention was further fueled in 2021, when a friend involved with the American Heart Association in Tarrant County recruited her as a Woman of Impact nominee just a few weeks before the campaign kickoff.
"I was looking for a way to make an impact locally, and it was almost like it fell into my lap," she said. "I love a challenge. For me to make an impact while taking on a challenge, it was a fun distraction from our everyday. Raising money is important, but education is equally as important."
Hands-Only CPR then became Barbara's education platform.
"It is lifesaving," she said. "My mission was to train anyone and everyone in my network in Hands-Only CPR. Knowing that if just one person saves a life, my mission has been accomplished."
Her mission included her mother, who hadn't taken a CPR class.
Barbara said she was "really intentional" when she picked her Impact Team and made her requests.
"I picked people from different parts of my life," she said. "I was very specific with my ask. I knew some of my network would be able to donate more. If you ask for a certain amount, that's really helpful."
The experience as a Woman of Impact nominee led Barbara to chair Tarrant County's Go Red for Women campaign — giving her a chance to continue making an impact in her community.
"I love a good cause," Barbara said. "When I think about my love language, making an impact is my love language. It felt like a natural progression."
---