Foodscape Innovation Summit
The Foodscape Innovation Summit is an essential part of the American Heart Association's food systems work in support of health equity.
To transform a system, all stakeholders must communicate to find common ground for action. We convene the Foodscape Innovation Summit annually to engage in dialogue with thought leaders and stakeholders throughout the food system. We come together from non-profit, corporate, government, and academic sectors to find common ground and explore collaborative solutions to challenges facing the food system. Learnings from the summit inform data-driven, cross-sector, coordinated action for the health of people and planet.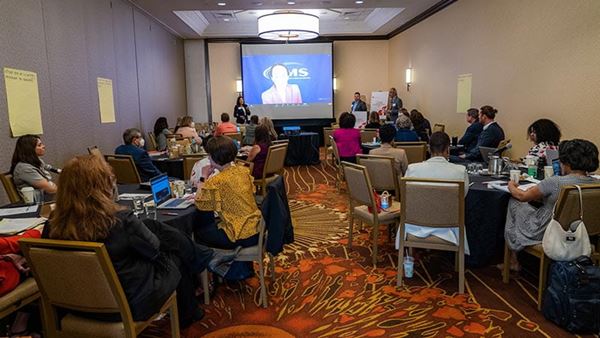 2022 Annual Foodscape Overview
---
Hosted by Dr. Eduardo Sanchez, the American Heart Association's chief medical officer for prevention, the 2022 Summit explored sustainable nutrition security for all. Panelists and attendees with a diverse range of perspectives and expertise explored innovative approaches to community action, food production and marketing, healthcare, and research.
The summit presentations and discussions underscored why nutrition security per se is more salient than food security when innovating across the food system. Food insecurity, which impacts approximately one in 10 U.S. households, is a common cause of inadequate nutrition, yet this statistic fails to capture those lacking in adequate nutrition because of low resources. It only partially accounts for the increased risk for nutrition-related chronic disease among food-insecure groups.
Nutrition security is a top priority for public health. Food systems innovations that are equity-focused; inclusive; collaborative; and consumer-, community- and data-driven are vital. Stakeholders throughout the food system, including the nonprofit, industry, government and academic sectors, all have a role to play in ensuring access to sustainable, nutritious, affordable diets that are good for both people and the planet.
"We all have a role to play…There is a lot of possibility."

- Dr Anne N. Thorndike, M.D., MPH
"We need to think about food for health in a way that maintains our ability to live on this planet."

- Eduardo Sanchez, M.D., M.P.H.
Chief Medical Officer for Prevention, AHA
Summit Presentations
Watch the five panelist presentations.
Part 1: Advancing Equity in Nutrition Security in the United States
A holistic and inclusive view of nutrition security and the imperative to advance towards sustainable solutions.

Part 2: Innovation to Prioritize Nutrition in Healthcare
Explore the opportunities and barriers to implementation of nutrition services and health-promoting food environments in healthcare

Part 3: Innovation for Sustainable Healthy Food Access
Interact with Small and Growing Businesses (SGBs) that are innovating "on-the-ground" strategies for sustainable nutritious food access

Part 4: Dr. Marc Watkins, Chief Medical Office for Kroger Health highlights their Food as Medicine Strategy

Part 5: Affordable Nutrition for Healthy People and a Healthy Planet
Explore cutting-edge research to inform and facilitate dietary patterns and practices that are affordable, culturally relevant, and also good for the health of people and the environment.
Previous Annual Foodscape Innovation Reports
6th Annual Foodscape Innovation
5th Annual Foodscape Innovation Report
4th Annual Foodscape Innovation Report
Interested in joining? Contact us.
We welcome your participation as we explore data-driven, multi-sector solutions to the health, equity and sustainability challenges facing the food system.
Questions? Email us at [email protected].