Stepping Stones for Food System Transformation
Stepping Stones for Food System Transformation
The American Heart Association Industry Nutrition Forum (INF) collaboratively examines food system challenges related to nutrition security, prioritizes those for which INF members and the AHA have complementary strengths to leverage, and advances stakeholder action.
Progressive dialogue, action and impact over time are stepping stones toward a food ecosystem that prioritizes health, equity and sustainability.
Process Timeline
Examine food system challenges
Leverage complementary strengths
Advance stakeholder action
Issue Brief on Affordable Nutrition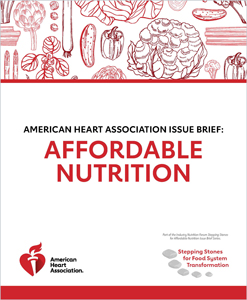 This Issue Brief on Affordable Nutrition synthesizes perspectives and evidence from peer-reviewed, published research, authoritative websites, and dialogue at the Affordable Nutrition Roundtable, convened by the AHA on June 8, 2022.
The roundtable sought to clarify the language used to describe intersecting concepts regarding the nutritional quality, affordability and noneconomic costs of healthy foods and diets; examine different perspectives and the scientific and experiential evidence for different approaches to ensuring equitable access to affordable nutrition; discover data, insights, and actions or innovations needed by or among different sectors to advance effective solutions; and identify thought leaders and organizations as potential partners and resources for future action.
Interested in joining? Contact us.
We welcome your participation as we explore data-driven, multi-sector solutions to the health, equity and sustainability challenges facing the food system.
Questions? Email us at [email protected].