5 Tips to Host a Heart-Healthy Holiday Party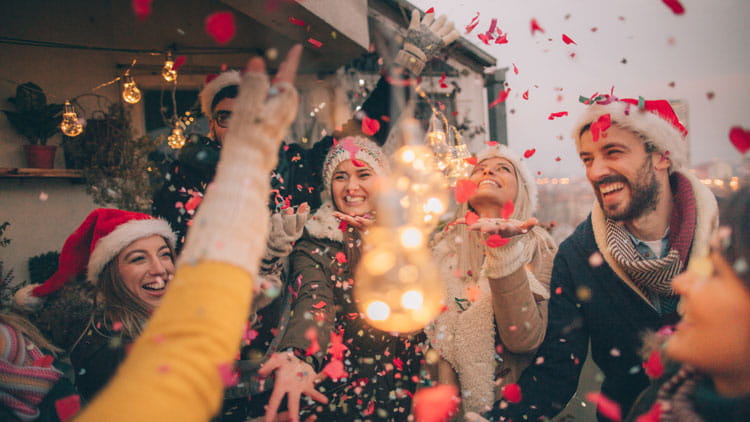 'Tis the season of celebrations. We know they're important — and a key to our emotional and physical health.
Here are some ways to make merry at your holiday gathering:
Make it official. Create a guest list, set a date and time, and invite friends and family to attend. Mail some sparkly invites or take advantage of free online invitation makers or templates and email or text invitations to your guests.


Create the menu. Separate locations doesn't have to mean different menus. Send out your favorite healthy recipes and ask your dinner companions to vote on the holiday menu. Need some suggestions? Try some of our tasty recipes.


Set the scene. Choose a mood and theme for your party. Deck your halls with balloons, flowers and holiday décor — and don't forget the mood music. Make a playlist with traditional favorites or mix it up with modern versions of old classics. Ask your guests to send you their top three songs to include. Plus, dancing is a fun way to get your heart pumping, so enjoy the added bonus of making healthy moves while you're enjoying your favorite holiday tunes.


Dress for success. Invite your guests to dress to complement the theme of your party. If it's silly and fun, maybe make it an ugly holiday sweater party. (You can even make it a contest by voting on winners in different categories, such as Funniest, Most Colorful and, of course, Ugliest.) If you want to get super casual, throw a holiday pajama party.


Say "Cheers!" No holiday or celebration is complete without a toast. You can drink a glass of sparkling water between each alcoholic beverage or whip out the mocktails. Celebrate your accomplishments and express gratitude for your guests with a group toast or take turns sharing something each one of you is thankful for.
Here are a few more ideas to make your holiday party merry, memorable and meaningful:
Movin' and groovin'. Once you've finished the meal, find something active to do as a group, like a dance party or challenge or charades.


Lights, camera, action! Record your virtual holiday party to create a fun video to post on social media or to send to loved ones who couldn't join.


Get crafty. Decide on one or two virtual DIY craft ideas. Kids can make holiday cards or ornaments, while adults try their hand at painting wine glasses or making ugly sweaters.


Give from the heart. Assign random guest names to other guests for a group gift exchange at least a couple of weeks before the party. Ask guests to send or bring a small gift with them (assign a suggested value) for their recipient. Check out the Shop Heart Holiday gift guide.


Say "Cheese!" Create a virtual holiday photo booth at your gathering. Email or text the photo to the attendees as a memento.


Name that tune. Play snippets of holiday songs and challenge guests to guess the name of the song.


Find the next American Idol. Download a free karaoke app and have guests take turns performing their favorite holiday classics.


Anyone's game. Go online for ideas and free ways to play family-friendly games, such as Bingo and holiday trivia.


The joy of cooking. After the party, share the party recipes in a digital "cookbook" with your guests. Be sure to include photos of the finished dishes.


Have little ones? Try these activities:
Once upon a time. Elect one master storyteller to read a holiday book, or ask each party-goer to take a turn reading a page.


Organize a holiday scavenger hunt. Pull together a list of items that kids can find in their home. Go online for free ideas and templates.


Participate in a sing-along. Make a playlist of well-known kid-friendly holiday songs. When you play the tunes, encourage kids (and adults!) to sing along. And if you're feeling really festive, take your show on the road by caroling in your neighborhood. Getting out and walking as you spread cheer is a great way to be active while celebrating a fun holiday tradition.


Simon says. Ask each older child to lead a round of the traditional game Simon Says in which the younger kids participate.
Happy Holidays!
---