Hosting a Healthy Holiday Party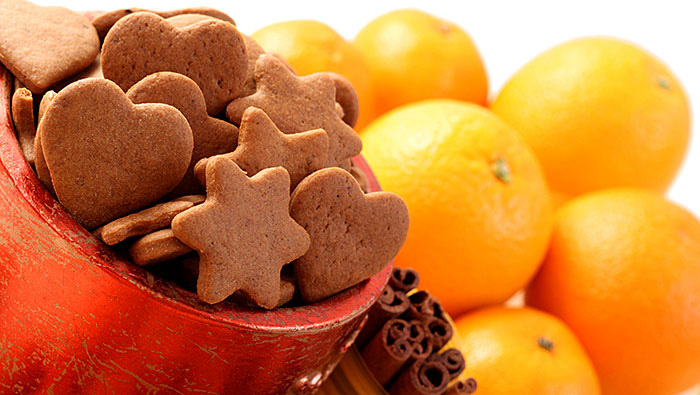 Holiday season is in full swing and if you're playing host this year, you already know tasty temptations are sure to loom left and right. But that doesn't have to be the case. This year, choose to be a heart healthy – for yourself, and your guests. Not sure how? Here are five easy ways.
1. Plan ahead
Take the time to plan what bites and beverages you'll be serving to your guests. This will ensure you have foods that benefit your body and also that you stay within budget, says Maribet Rivera-Brut, nutritionist and volunteer for the American Heart Association. She suggests looking for seasonal fruits and vegetables, which will also help keep your costs down.
2. Find balance
"You can't make everyone happy, but you can balance," says Maribet. Her No. 1 suggestion: making sure you serve a variety of items, as it will give you a chance to work with new foods. "The number one ingredient you should try to have, as a host, is fiber," she says. "Try to find food that is high in fiber and whole grains."
This doesn't have to be costly or time consuming. Serving cheese and crackers? Sub your standard white-flour crackers for a heartier whole-wheat, fiber-enriched version. Have a dip plate planned? Add some crudités to your platter. And above all, look for things that are in season, like cranberries. Rich in antioxidants and full of flavors, this berry makes a great addition to a holiday menu.
3. Drink with caution
Holiday parties tend to lead to imbibing, meaning you'll be consuming empty calories and added sugar. For host and guest alike, moderation is key. Be sure there are alternate beverages on hand – especially water. And while all alcohol is caloric, consider serving clear liquors over dark ones (less sugar) and red wines over whites (more heart-healthy).
4. Serve sweets in moderation
Your guests have likely been bombarded with sweet treats these past couple weeks. Refresh their palates with a fresh fruit plate full of heart-healthy berries or some strawberries dipped in dark chocolate. "Always try to have something with fresh fruit. You can make so many things with just fruit," says Maribet.
Still can't resist serving your grandmother's award-winning chocolate chip cookies? Remember this key word: substitution. When it comes to baked goods, there are so many things you can swap. And they taste just as good, if not better, than the originals.
5. Stay relaxed
A relaxed host is a good host. Try to stay calm the day of your party – you'll be less likely to overeat and drink if you're thinking clearly. And don't be afraid to sample the delicious bites you choose to serve. Depriving yourself will only leave you frustrated and hungry, a combination that easily leads to an overeating disaster.
Julia Rodack is NYC-based writer and editor. She loves food, fashion and alliteration. Her work has appeared in Time Out New York, The Brooklyn Downtown Star and various online publications.
---