Best Friend Fridays Infographic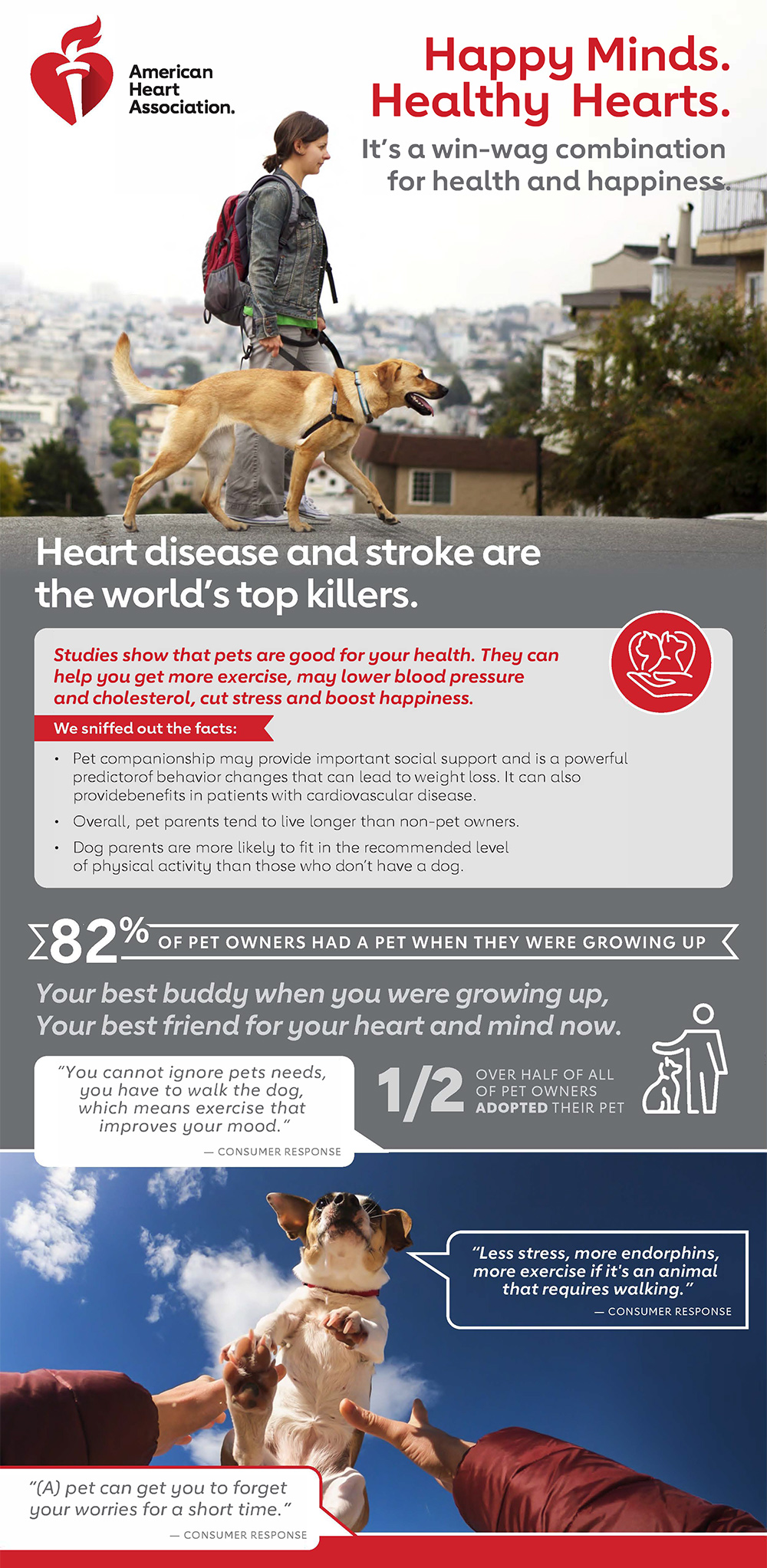 It's a win-wag combination for health and happiness.
Heart disease and stroke are the world's top killers.
Studies show that pets are good for your health. They can help you get more exercise, may lower blood pressure and cholesterol, cut stress and boost happiness.
We sniffed out the facts:
Pet companionship may provide important social support and is a powerful predictor of behavior changes that can lead to weight loss. It can also provide benefits in patients with cardiovascular disease
Overall, pet parents tend to live longer than non-pet owners
Dog parents are more likely to fit in the recommended level of physical activity than those who don't have a dog.
82% of pet owners had a pet when they were growing up. Over 1/2 of all pet owners adopted their pet.

Your best buddy when you were growing up,
Your best friend for your heart and mind now.
"You cannot ignore pets needs, you have to walk the dog, which means exercise that improves your mood."
— Consumer Response
"Less stress, more endorphins, more exercise if it's an animal that requires walking."
— Consumer Response
"(A) pet can get you to forget your worries for a short time."
— Consumer Response
Happier Minds. Check.
Happier Hearts. Check.
Happier Me. Double Check.
Pet Owners Believe These Top Benefits of Pet Ownership
Companionship

58%
Decreased feelings of loneliness

36%
Decreased feelings of stress

36%
Increased opportunities for exercise/outdoor activities

23%
Decreased blood pressure

14%
Decreased cholesterol levels

7%
"Honestly, happiness. Nothing makes me happier than coming home to my dog everyday."
— Consumer Response
Too busy to be loved unconditionally?
• Not enough time to get out there in the fresh air and run with your dog?
• Lots of travel and don't want anyone excited to see you when you come home?

Think what you're missing!
Remember, animals don't judge!
"Help reduce stress and loneliness."
— Consumer Response
The American Heart Association makes me a believer. They're right.
My dog does make me feel happier. He certainly helps reduce work stress when I get home
We love doing selfies together.
83% Said American Heart Association is a believable pet source.
OK, I get it.
Pets are good for my mind and my body.
I'm off to the shelter to meet my new best friend.
"Caring about a pet makes you care about yourself."
— Consumer Response
I read the labels on the foods I eat and prepare for my family.
And Spot here is part of our family. So we read his labels too! It's important.

77% of Millennials read labels on pet food.
71% have them microchipped / registered

Fewer than 10% are able, but over 50% would like to bring their pet to work.

It is so cool that I can bring my cat to work.
When everyone around me is grumpy I just walk my cat up and down the office.
People stop what they're doing to pet her.
What, me stress?