Your Heart Failure Health Care Team
If you have heart failure, it's important to develop good relationships with all members of your health care team. Talk to them openly and honestly. Keep them informed about symptoms or changes in your condition so that they can help you. And follow their recommendations to manage your condition and have a full, active life.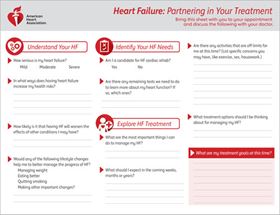 Download Partnering in your treatment: questions to ask your doctor (PDF) | Spanish (PDF)
Your health care team may include:
The primary care doctor is usually a general internist or family physician who provides your routine preventive health care, including physical exams and basic tests. This person is the first contact when medical problems arise. In most cases, the primary care doctor remains in charge of your overall care and is your main contact for questions and advice.
A cardiologist diagnoses and treats heart problems.
Other doctors include surgeons and other specialists, if recommended by the primary care doctor or cardiologist.
Clinical nurse specialists, nurse practitioners and physician assistants also diagnose and treat heart problems, might perform tests and provide care, education and counseling.
Physical and occupational therapists assist with cardiac rehabilitation and help develop an appropriate plan for regular physical activity.
Dietitians share heart-healthy eating guidelines and help develop meal plans.
Mental health professionals help patients and families deal with emotional stress, anxiety or depression.
Social workers and case managers can help with complex financial, legal and other issues, such as understanding insurance coverage, developing an advance directive and finding social support services.
Pharmacists are an excellent resource for information about your medications. They can advise you if one of your drugs interacts badly with certain foods or with other drugs, including nonprescription ones. They can also help you understand patient-directed package inserts and label instructions for medications.
You're also an important member of the health care team
You and your caregivers are both essential parts of the health care team. It's your responsibility to follow the health care team's instructions. It's also up to you to tell them how you're doing. With good teamwork and communication, you can improve your quality of life.
Good communication with your health care team can help you get the most out of your health care professional visits. Knowing which questions to ask and understanding what your health care professional is saying can help you feel confident that you're getting the best care.
Communication is also the core of shared decision-making in advanced heart failure. You and your health care professional should discuss your preferences and goals and which treatments or care options best match those goals.
Tips for communicating with your health care team
Be prepared: Make the most of appointments with your health care team by preparing beforehand. Take a list of all medicines you're taking to the appointment. Make a list of your current symptoms. Try to articulate how you feel and any changes in your condition. Write down your concerns and questions.
Ask questions: Making the right decisions for you starts with asking questions. Take notes or record your conversation so that you can review the information later or share it with friends and family members. Consider these questions:

Will you talk openly and honestly with me about my condition?
Will you help me make decisions about my care that match my preferences and goals?
What can I expect in the future in terms of symptoms and outlook?
What treatment and care decisions do I need to make based on my current situation?
What decisions do I need to make about future therapies or interventions?
What are the potential benefits of the recommended treatment options? What are the risks and burdens of each option?
Can we set up an annual talk to review my goals and treatment decisions, both looking back and looking forward?

Clarify what you hear: If the information you receive from the health care team is unclear, ask them to use simpler words or explain it in a different way. Then repeat what you've heard back to them in your own words.
---