Seasons of Eating Infographic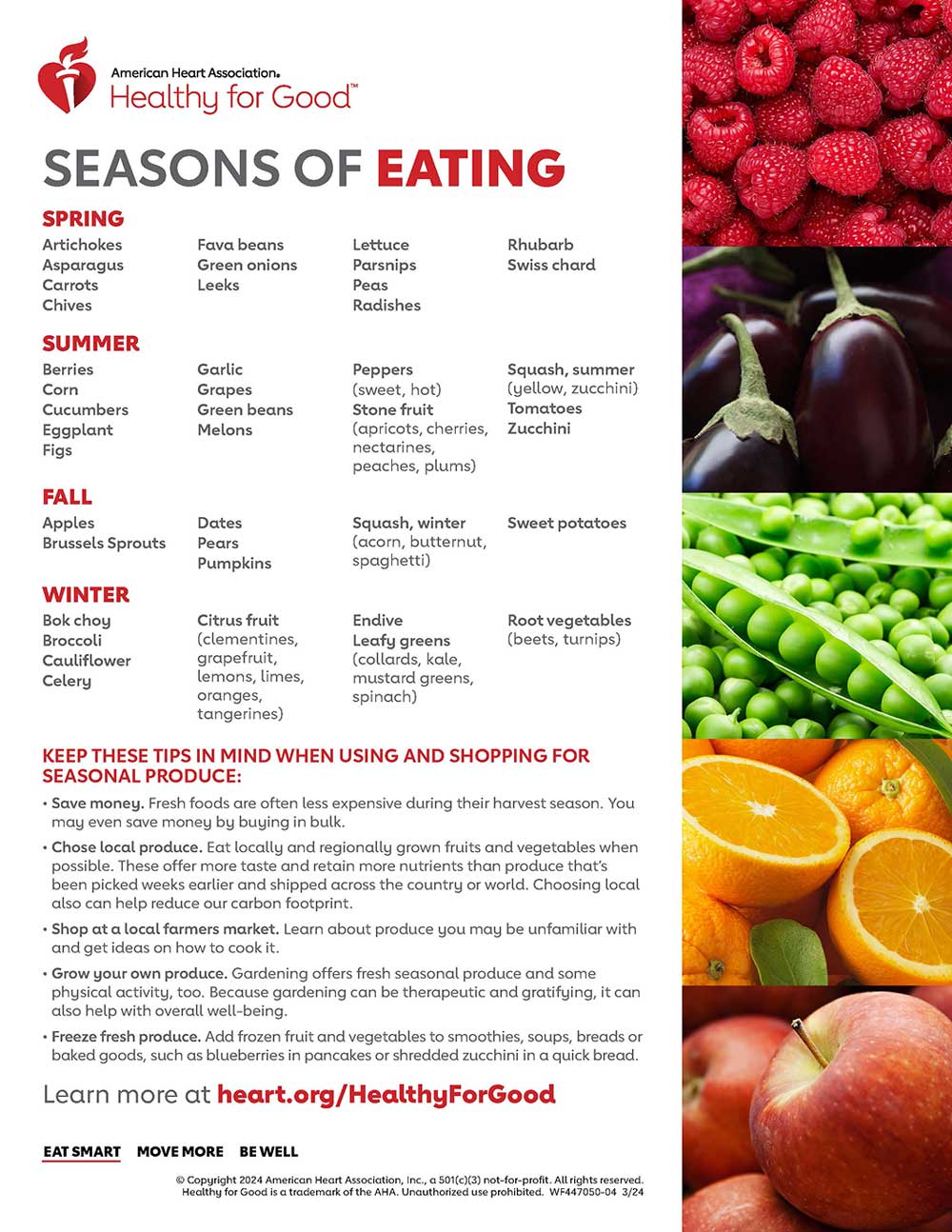 View a Spanish version of this infographic
Spring
Artichokes
Asparagus
Carrots
Chives
Fava Beans
Green Onions
Leeks
Lettuce
Parsnips
Peas
Radishes
Rhubarb
Swish Chard
Summer
Berries
Corn
Cucumbers
Eggplant
Figs
Garlic
Grapes
Green Beans
Melons
Peppers (sweet and hot)
Stone Fruit (apricots, cherries, nectarines, peaches, plums)
Summer Squash
Tomatoes
Zucchini
Fall
Apples
Brussels Sprouts
Dates
Hard Squash (acorn, butternut, spaghetti)
Pears
Pumpkins
Sweet Potatoes
Winter
Bok Choy
Broccoli
Cauliflower
Celery
Citrus Fruit (clementines, grapefruit, lemons, limes, oranges, tangerines)
Endive
Leafy Greens (collards, kale, mustard greens, spinach)
Root vegetables (beets, turnips)
Keep these tips in mind when using and shopping for seasonal produce:
Fresh foods are often less expensive during their harvest season. You may even save money by buying in bulk.
Shop at your local farmers market to learn more about produce and get ideas on how to prepare foods in season.
Gardening gives you fresh seasonal produce and a little exercise, too. The sense of pride you'll feel will make that produce taste even better!
Frozen, canned and dried fruits and vegetables also can be healthy choices. Compare food labels and choose items with the lowest amounts of sodium, added sugars and saturated fat.
Freeze fresh produce so you can add it to smoothies, soups, breads and more throughout the year.
Learn more at heart.org/HealthyForGood
Eat Smart Move MoreBe Well
© Copyright 2020 American Heart Association, Inc. DS16232 6/20
Lipton
Nationally Supported by
Eggland's Best
Nationally Supported by

Egg Nutrition Center
Nationally Supported by

Sorghum Checkoff
Nationally Supported by