Building Healthy Lunch Habits at Work Infographic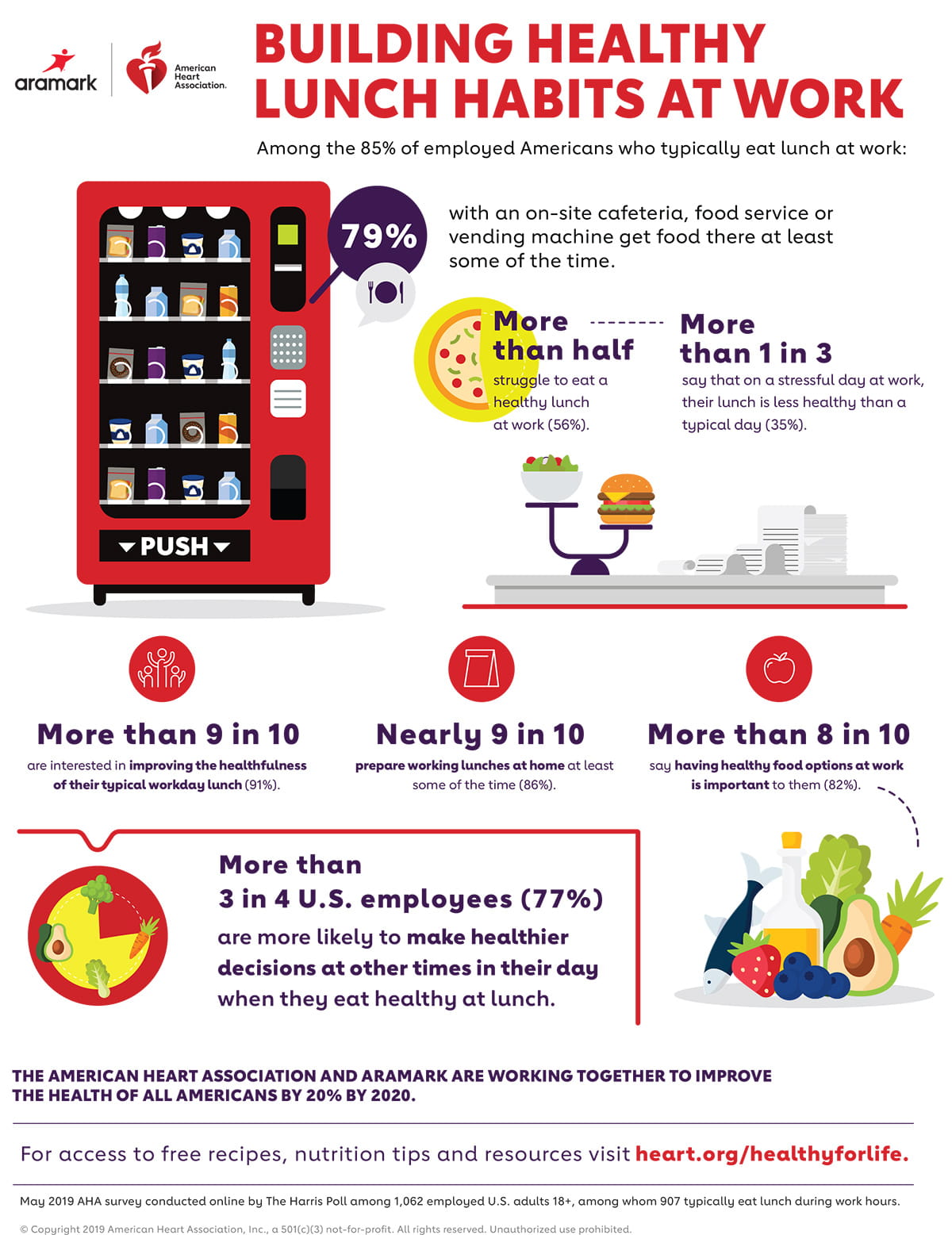 Among the 85% of employed Americans who typically eat lunch at work:
79% with an on-site cafeteria, food service or vending machine get food there at least some of the time.
More than half, 56%, struggle to eat a healthy lunch at work.
More than 1 in 3, 35%, say that on a stressful day at work, their lunch is less healthy than a typical day.
More than 9 in 10, 91%, are interested in improving the healthfulness of their lunch.
Nearly 9 in 10, 86%, prepare working lunches at home at least some of the time.
More than 8 in 10, 82%, say having healthy food options at work is important to them.
More than 3 in 4, 77%, U.S. employees are more likely to make healthier decisions at other times in their day when they eat health at lunch.
The American Heart Association and Aramark are working together to improve the health of all Americans by 20% by 2020.
For access to free recipes, nutrition tips and resources visit heart.org/healthyforlife.
May 2019 AHA survey conducted online by The Harris Poll among 1,062 employed U.S. adults 18+, among whom 907 typically eat lunch during work hours.
© Copyright 2019 American Heart Association, Inc., a 501(c)(3) not-for-profit. All rights reserved. A unauthorized use prohibited.
Lipton
Nationally Supported by
Eggland's Best
Nationally Supported by

Egg Nutrition Center
Nationally Supported by

Sorghum Checkoff
Nationally Supported by