No waiting in a drive-through line for these portable pitas! The protein and whole wheat will keep you going through the morning—without the saturated fat, cholesterol, and sodium of fast food.
Nutrition Facts
Grab-and-Go Breakfast Pitas - Delicious Decisions

Calories
148 Per Serving
Protein
12g Per Serving
Fiber
3g Per Serving
Nutrition Facts
×
Calories
148
Total Fat
2.5 g
Saturated Fat
0.5 g
Trans Fat
0.0 g
Polyunsaturated Fat
1.0 g
Monounsaturated Fat
1.0 g
Cholesterol
0 mg
Sodium
425 mg
Total Carbohydrate
20 g
Dietary Fiber
3 g
Sugars
2 g
Protein
12 g
Dietary Exchanges
1 1/2 starch, 1 1/2 very lean meat
Ingredients
2 whole-wheat, 6-inch pita pockets
1 tsp. canola or corn oil
1/4 cup chopped green onions
2/3 cup soy-based sausage crumbles
1 cup egg substitute
2 Tbsp. salsa (lowest sodium available)
Directions
In a medium skillet on medium-high heat, warm the pitas slightly, about 30 seconds on each side. Transfer to a plate and cover with another plate to keep warm.
Pour the oil in the skillet, swirling to coat the bottom. Cook the green onions for about 2 minutes, or until beginning to soften.
Stir in the sausage crumbles. Cook for about 2 minutes, or until just heated through.
Pour in the egg substitute. Reduce the heat to medium low. Cook for 2 to 3 minutes, or until set, stirring often.
Cut the pitas in half. Spoon the egg mixture into each. Drizzle with the salsa.
Tip: Soybeans provide easily digested high-quality protein and essential amino acids. Meat-free soy-based products that replace sausage, bacon, and burgers offer all the taste without the fat.
Tip: Serving size 1 stuffed pita half.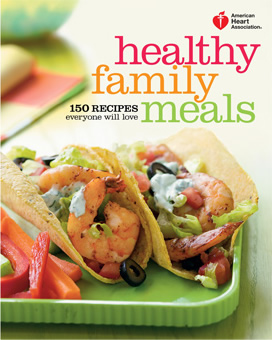 American Heart Association Healthy Family Meals Cookbook
Geared to the nutritional needs and tastes of all ages, American Heart Association Healthy Family Meals helps you create meals that will appeal to every member of the family — and are good for them, too. The 150 family-focused recipes are complemented by 80 color photographs.
Sample Recipes:
Purchase:
This recipe is reprinted with permission from American Heart Association Healthy Family Meals, Copyright © 2009 by the American Heart Association. Published by Clarkson Potter/Publishers, a division of Random House, Inc. Available from booksellers everywhere.