This classic takeout Chinese dish is just as delicious as the restaurant version — but healthier.
Nutrition Facts
Sweet & Sour Pork

Calories
339 Per Serving
Protein
24g Per Serving
Fiber
5g Per Serving
Nutrition Facts
×
Calories
339
Total Fat
4.5 g
Saturated Fat
1.0 g
Trans Fat
0.0 g
Polyunsaturated Fat
1.0 g
Monounsaturated Fat
2.0 g
Cholesterol
61 mg
Sodium
183 mg
Total Carbohydrate
49 g
Dietary Fiber
5 g
Sugars
17 g
Added Sugars
0 g
Protein
24 g
Dietary Exchanges
2 starch, 1 fruit, 1 vegetable, 2 1/2 lean meat
Ingredients
1 cup uncooked brown rice
1 tablespoon cornstarch
1 20-ounce can pineapple chunks in their own juice, juice reserved
2 tablespoons white vinegar
1 tablespoon no-salt-added ketchup
2 teaspoons grated peeled gingerroot

OR

1/2 teaspoon ground ginger
2 teaspoons soy sauce (lowest sodium available)
1 1/4 pounds pork tenderloin, all visible fat discarded, cut into 1/2-inch pieces
1 1/2 teaspoons canola or corn oil
3 cups thinly sliced peeled carrots
2 cups trimmed snow peas
1/4 cup sliced green onions
Directions
Prepare the rice using the package directions, omitting the salt and margarine. Set aside.
Put the cornstarch in a medium bowl. Add the reserved pineapple juice (you'll use the pineapple chunks later), vinegar, ketchup, gingerroot, and soy sauce, whisking until the cornstarch is dissolved. Add the pork, turning to coat.
In a large skillet, heat the oil over medium-high heat, swirling to coat the bottom. Cook the carrots for 5 minutes, stirring occasionally.
Stir in the snow peas and pork. Cook for 8 minutes, or until the pork is no longer pink in the center and the vegetables are tender, stirring constantly.
Stir in the pineapple and green onions. Cook 1 minute. Remove from the heat.
Serve the pork mixture with the rice.
Cooking Tip: To prepare the snow peas, trim the stem end. Break off the tip on the pointed end and pull gently toward you to remove the string that runs along the spine of the pea pod.
Tip: Sugar snap peas, a cross between garden peas and snow peas, can also be used in the recipe. They take a little longer to cook so start cooking them a few minutes before you add the pork.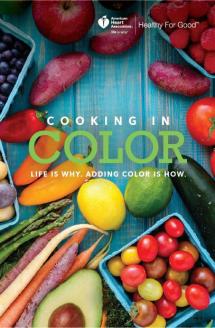 Cooking in Color
This digest-size recipe booklet includes 27 healthful recipes, all including fruits, vegetables, or both. Each recipe is accompanied by a vibrant photograph, and the recipes are organized by color. Also included is a fruit/veggie storage guide and a fruit/veggie equivalency guide.
Shop Heart
Copyright © 2018 American Heart Association, Healthy for Good™. Every purchase helps fund the work of the AHA/ASA.