Your Aortic Stenosis Care Team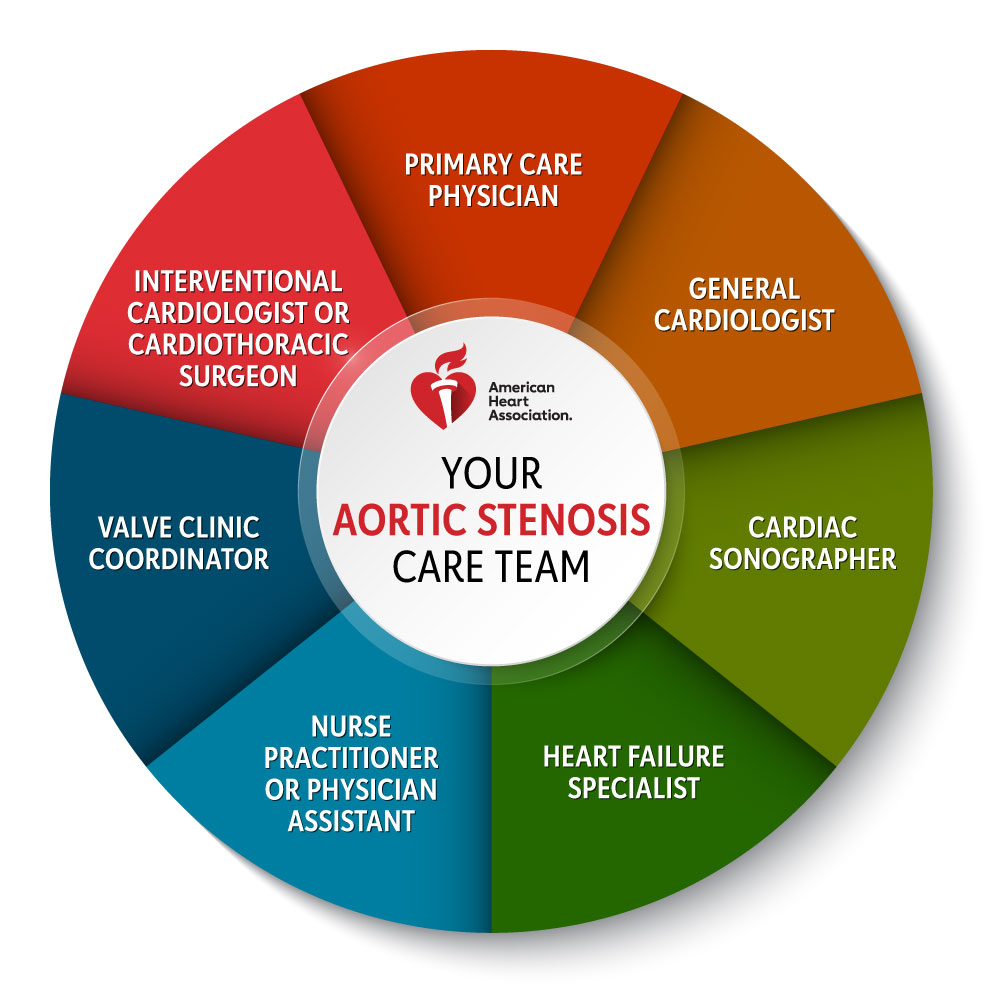 Aortic stenosis, a narrowing of the aortic valve opening that restricts blood flow out of the heart, requires careful monitoring and often surgery or other intervention to replace the valve. Here are some of the health care professionals who will treat or help you manage the condition:
A primary care physician (PCP) is a key adviser in helping you manage all aspects of your health. Your PCP may suspect a heart problem and refer you to a general cardiologist to explore further. If you're experiencing symptoms that suggest a heart problem, like shortness of breath, chest tightness/pressure or a rapid heartbeat, tell your doctor so he or she may refer you for testing.

A general cardiologist discusses your heart health with you, performs medical examinations, and orders and interprets tests to diagnose, assess and monitor your aortic stenosis (as well as any other cardiovascular conditions you might have). A test called an echocardiogram might be ordered to evaluate your heart valves. Medications may be prescribed to manage your aortic stenosis. You might also be referred to other specialists when needed — for example, when it's time to replace your aortic valve. Your general cardiologist is vital for your routine follow-up.

A cardiac sonographer conducts an echocardiogram, or echo, which uses ultrasound to create images of your heart and determine whether its valves are working properly. Your cardiologist will decide how often echocardiograms are needed to monitor your heart health.

An echo usually takes an hour or less, doesn't hurt and requires no special preparation. For the test, you lie on a table. Gel on your chest helps sound waves from a probe pass through your skin. The sound waves bounce off your heart, "echo" back to the probe and are converted into images of your heart. During the echo, the sonographer will ask you to change positions or briefly hold your breath to get the images needed to fully evaluate your heart.
Aortic Stenosis Discussion Guide: Get the most out of your appointment (PDF) | Spanish (PDF)
When You Need Valve Replacement
When the aortic valve becomes too obstructed or your symptoms become severe, it must be replaced.

An interventional cardiologist or cardiothoracic surgeon may perform transcatheter aortic valve implantation, known as TAVI. This is also called transcatheter aortic valve replacement, or TAVR. During TAVI, a catheter is threaded through an artery into the heart, and a new valve is placed and then expanded inside the old valve.

A cardiothoracic surgeon may also perform open-heart surgery to replace the stenotic valve. This is known as surgical aortic valve replacement (SAVR).
*Age is not the only factor in making a decision on treatment. It is critical to talk to your care team to weigh the risks and benefits of each approach and take into account your values and preferences.
Download Aortic Stenosis: Considerations for Replacing Your Aortic Valve (PDF)
Other Team Members
Because aortic stenosis can lead to heart failure, a heart failure specialist can be an important team member to help you carefully manage your condition.

Advanced practice providers such as nurse practitioners and physician assistants work in various health care settings and can do many tasks that physicians do. These include taking your medical history, conducting exams and ordering lab work and other tests.

A valve clinic coordinator is typically your first contact at a hospital that performs aortic valve surgery. The valve clinic coordinator helps patients navigate treatment and address related issues from referral through follow-up care.

Large medical centers often create heart teams, or structural heart teams, of health care professionals from varied specialties. They are also known as multidisciplinary teams. Team members pool their expertise as they guide patients to decide the best course of treatment, especially in complex cases.
---