How do pregnant moms keep their hearts safe?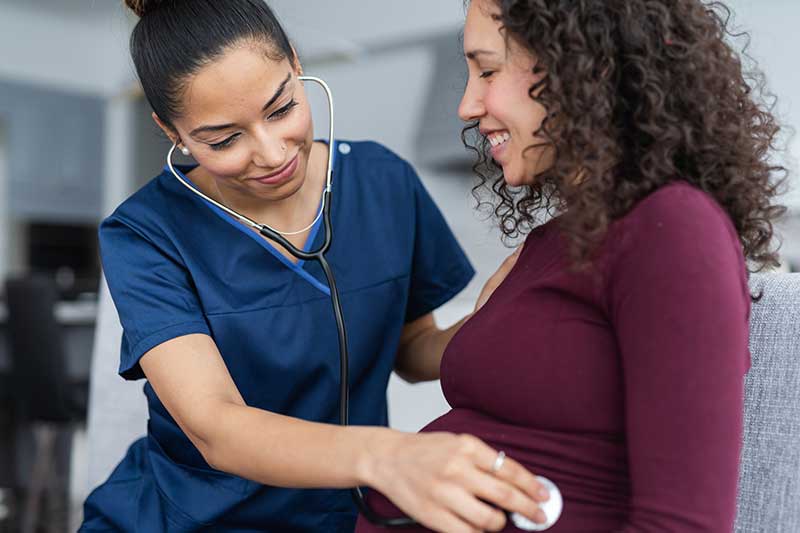 Pregnancy-related deaths in the U.S. are rising at an alarming rate — and cardiovascular disease is the leading cause.

Between 1987 and 2015, pregnancy-related deaths rose from 7.2 per 100,000 live births to 17.2 per 100,000 live births (up 140%), said Dr. Laxmi Mehta, professor of medicine and director of preventive cardiology and women's cardiovascular health at The Ohio State University Wexner Medical Center in Columbus, Ohio and Go Red for Women national volunteer expert.
"Anything more than zero is outrageous," she said.
Mehta was the writing group chair for Cardiovascular Considerations in Caring for Pregnant Patients, an American Heart Association scientific statement published this year in the AHA's flagship publication Circulation.
"We recognized that the field of cardio-obstetrics needs more research, more public knowledge," she said. "That's what started our review of data out there."
Reasons for the high incidence of cardiovascular disease in pregnant women aren't definitively known.
Several factors most likely contributing are:
Advanced maternal age.

From age 35 on, pregnant women are more likely to have or to develop cardiovascular disease risk factors such as chronic hypertension, preeclampsia and gestational diabetes.

Medical advancement.

Females with congenital heart disease are living longer, surviving to childbirth age.

Previous pregnancy complications.

Women with prior health issues during pregnancy may be at greater risk for having them again. If you had preeclampsia during pregnancy, you're at increased risk for cardiovascular disease later, Mehta said.

Lifestyle.

Americans notoriously eat too few fresh fruits and vegetables, not enough whole-grain foods and way too much saturated fat. An unhealthy diet can contribute to obesity, high blood pressure and Type 2 diabetes — risk factors for cardiovascular disease.

Disparities in maternal health.

Black and American Indian/Alaska Native women are two to three times more likely to die from pregnancy-related complications in comparison to other women. Among Black women, cardiomyopathy, and other cardiovascular conditions, such as preeclampsia and high blood pressure are among the underlying causes of maternal mortality. An estimated 40% of all U.S. counties, mainly rural, lack a qualified childbirth provider (obstetrician, midwife, or family physician).
While the statistics on pregnancy-related deaths are scary, almost as alarming is what Mehta called "the knowledge gap," that cardiovascular disease is the leading cause of maternal mortality, especially in racial and ethnic minorities, who tend to be especially at risk.
Experts are addressing the problem, Mehta said.
"The study of heart health and pregnancy is not entirely new," she said. "We're learning more about it. Our knowledge is expanding significantly, and the interest level within the medical and patient community will continue to increase."
Go Red for Women, the American Heart Association's signature women's initiative, prioritizes the need for more research and comprehensive solutions to identify the connections between cardiovascular health and maternal health.
Mehta recommends women with heart issues and who are considering pregnancy do the following:
Talk to your doctor about your heart health. This holds true for any woman, especially those over 35, who have any form of heart disease or have had prior pregnancy complications, Mehta said. Also, "if you're on any kind of medication, it is always good to ask if it's safe to be on them when you're pregnant. Some meds are fine, and others aren't."


Be upfront. "If you have a family history of heart disease, discuss that. If you've had a pregnancy with complications, what would another pregnancy look like?


Discuss your overall health. Ask your health care team what exercise you can and can't do, and what you should and shouldn't be eating. "If you're diabetic, make sure you have it under control," Mehta said. "Ask what your underlying risks are."


Weigh the risks of pregnancy. "For some women, the cardiac risk is very high and prohibitive," Mehta said. "They can get pregnant, but do we recommend it? That's a different issue. We need to make it clear not to say you cannot get pregnant, but with certain cardiac conditions you should not get pregnant."
On the other hand, "We'd hate for people to decide on a false assumption of their own that they should never get pregnant, and they might be able to," she said. "That wouldn't be fair."


Guidelines to help have a healthy pregnancy:
Think teamwork. Some medical facilities have cardio-obstetrics specialists. But most don't. So if you have heart issues, an obstetrician, cardiologist, anesthesiologist, nurses and you should work together to achieve optimal pregnancy and delivery results.


Pay special attention to how you feel. "If you notice your heart is racing, if you're short of breath or having chest pains, if you feel dizzy or have swelling in your legs, or have intense fatigue beyond what you'd expect in pregnancy, call your doctor," Mehta said.


Don't panic if a cesarean section is recommended. Although a vaginal birth has fewer complications, sometimes that isn't the best option, Mehta said. "If the baby is breech or not progressing in labor or shows signs of compromise, the obstetrician may choose to do a C-section."
Above all, Mehta encourages women to learn as much as they can about keeping their hearts as healthy as possible.

"We're committed to helping all women, especially high-risk patients and those living with heart disease deliver safely," she said.
---