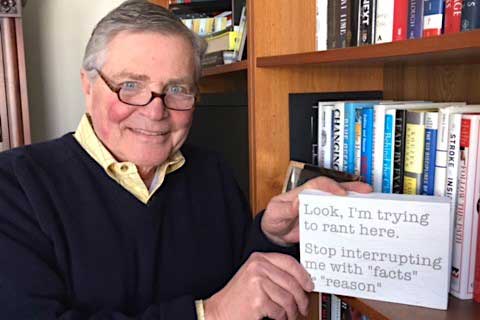 Bernard "Bernie" Dennis admits he "smoked like a chimney," didn't pay attention to what he ate and was stressed as a sales executive that required a lot of travel.

But when he suffered his first heart attack at age 45 — followed by two more during his month-long stay in the hospital — Dennis knew he could no longer continue on the same path.

A year later, his doctor told him he had a blood clot in his right leg. Then, he was diagnosed with peripheral artery disease, or PAD, which occurs when peripheral arteries that carry blood away from the heart to other parts of the body narrow due to a buildup of fatty plaque deposits, reducing blood flow most often to the legs and feet.

"I knew what angina felt like — the tightness in the chest and the pressure — because I had just had it, but it was exactly the same feeling in my leg a year later," said Dennis, who lives in Acton, Massachusetts.

Still, the PAD diagnosis was a mystery to Dennis.

"I was completely ignorant of the disease," he said. "To me, it was something I had to deal with as a result of the heart attack, but I had no idea how prevalent it was or how dangerous it could be."

More than 8.5 million people in the U.S. live with peripheral artery disease, with smokers twice as likely to have it. Black people and those with Type 2 diabetes also have an increased risk for PAD. Heart disease, high blood pressure and high cholesterol are other risk factors for PAD.

One of the most serious possible complications of PAD is amputation of the leg or feet.

"A lot of people don't really understand the consequences," said Dennis, who also has Type 2 diabetes. "They don't think that a cramp in the leg can lead to an amputation, but it can. Most people don't take it seriously enough."

But in many cases, amputation can be avoided with early detection and intervention.

The most common symptoms of PAD — burning, aching, cramping, numbness, fatigue or discomfort in the leg or hip muscles while walking — are often mistaken for other issues such as arthritis or muscle soreness.

That's why it's crucial for people who experience these symptoms regularly to see a doctor who can perform an ankle-brachial index test, a simple procedure that assesses the pulses in the feet to help diagnose PAD.

After three heart attacks in one month, Dennis stopped smoking, changed his diet to include more leafy greens and less carbohydrates and red meat, and began to exercise regularly.


As Dennis got his energy back, a cardiac rehabilitation nurse challenged him to participate in the American Heart Association's Heart Walk, an annual event that raises money to fight heart disease.

Soon, Dennis joined the board of a local AHA chapter, eventually becoming chairman. Dennis also became involved in the AHA's efforts to pass legislation, such as a tax on sugar-sweetened beverages or bills to curb youth's access to vaping products.

"I'm a believer that you have to pay it back," Dennis said. "I was close to sprouting wings, so I felt like this was something I had to do."
---