6 Tips to Packing a Healthy School Lunch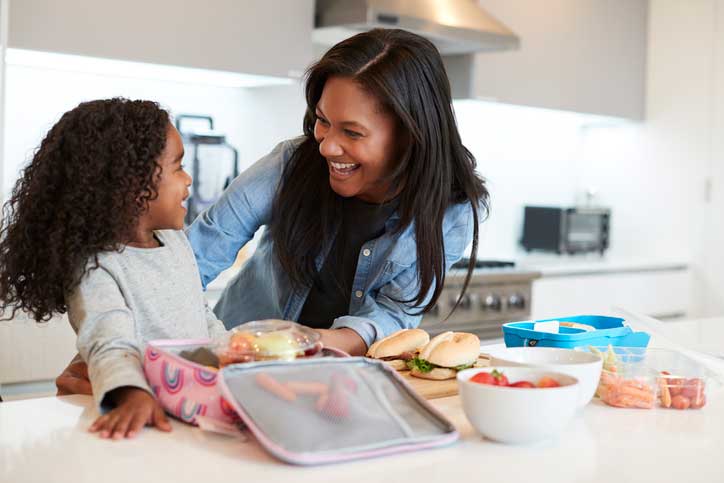 Pack a meal that powers kids through the school day
There's an art to creating a balanced, healthy school lunch for your elementary-age child. If packed with only healthy foods, you may worry that it won't get eaten. But if packed full of empty calories, it probably won't provide enough nutrition to help your child succeed in the classroom.
There's no one-size-fits-all answer for packing a school lunch. However, knowing what experts suggest can be helpful.
"Balance" is the latest word on heart-healthy eating, according to a new American Heart Association report that encourages people to adapt broad eating habits instead of focusing on single foods — and it's not one size fits all.
But what really matters is knowing what's realistic for your child. Instead of striving for lunchbox perfection, it's OK to send foods you know your children will eat along with better-for-them options.
Follow these six no-stress tips for packing a lunch your child is eager to open (and consume!) at school.
Determine what nutrients are needed. Nutrition requirements vary by age, gender and other factors, such as daily activity level. This chart provides a handy breakdown. In general, a school lunch might include a lean protein, whole grain, fruit, vegetable and fat-free/low-fat dairy. That sounds like a lot. But keep in mind these are kid-size portions. Also, different foods can be easily combined into a meal. For example, a turkey-and-cheese wrap on a whole-wheat or corn tortilla can check the boxes for half of the suggested food groups.


Include kids in the process. Let kids help during the grocery shopping and preparation process. This lets them know what's going into their lunchbox and increases the odds that they actually eat the lunch they take to school.


Save time with prep shortcuts. Save time and prepare the week's lunch items one day a week. Use a system that works for you and your family. Maybe keep all the lunch supplies in one kitchen cabinet. Or have a section of the refrigerator designated for grab-and-go lunch items. Try creating a weekly lunch calendar and posting it on the refrigerator.


Ask questions. "What do your friends eat at school?" This may give you new ideas to try. "What was your favorite thing in your lunchbox today?" This will let you know what's working. "What interesting or unfamiliar foods do your classmates bring to lunch?" One classmate enjoying hummus, mango or edamame may spark curiosity in your child to try those too.


Find inspiration. Browse the American Heart Association Recipe website to explore kid-friendly recipes or look in cookbooks at the library with your child.


Be patient and keep trying. What kids see and hear at home about food paves the way for better decisions at school. If your child is resistant to adding new lunchtime foods, be patient. Healthy changes sometimes require several attempts. Take it one lunch at a time and know that embracing good nutrition is often a process.


---