A Cardiologist's Perspective on Gestational Diabetes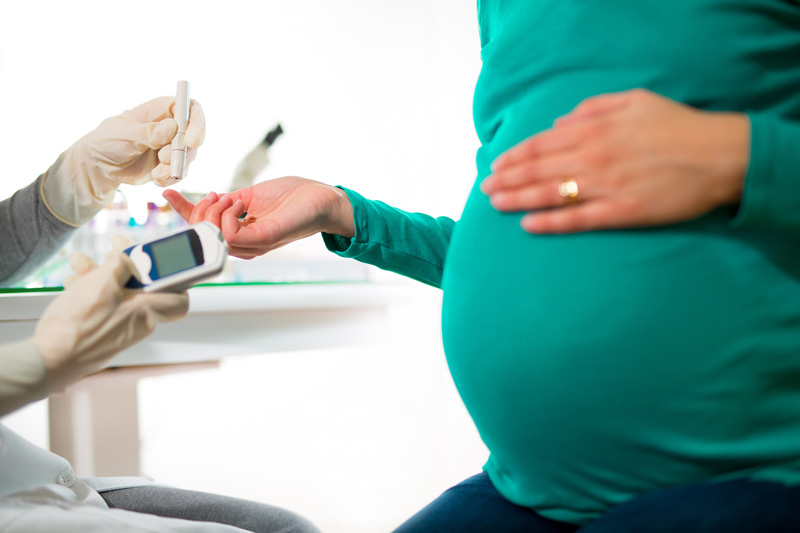 Gestational diabetes, a type of diabetes that develops during pregnancy, is a diagnosis no woman wants. The condition has been linked to health problems, delivery complications and future cardiovascular and other medical risks.
Helping women improve their heart health and cope with gestational diabetes is important to cardiologists such as Dr. Jennifer Lewey.
"Pregnancy is a window of opportunity," said Lewey, an assistant professor of medicine at the University of Pennsylvania. "It's a time for women to understand their risk for cardiovascular disease and make healthy changes to reduce that risk. Ideally, those changes are most effective when started before pregnancy and continued throughout pregnancy."
Lewey, who is director of the Penn Women's Cardiovascular Health Program, said her patients generally don't fit the mold of a "traditional" heart patient. Most are women ages 20 to 50, and more than half are pregnant.
"Improving cardiovascular health in all women of reproductive age is essential," she said. "That includes breaking down those stereotypes about who is affected by heart disease and understanding the care a pregnant woman needs."
This care often includes a team approach for women with gestational diabetes. Some of the experts may include an OB-GYN, cardiologist, Certified Diabetes Care and Education Specialist (CDCES), and specially trained nurses, registered dietitians, and others.
Lewey said women often continue the healthy habits they learn from these experts after pregnancy. That's motivation for her and other health care professionals to keep supporting women during the challenging time after childbirth, she said.
"I want women to always feel empowered to seek care and get answers to their health questions at every stage of their life."
More About Gestational Diabetes
What causes gestational diabetes? During pregnancy, many changes occur that affect a woman's body. Gestational diabetes happens when a pregnant woman's body doesn't make enough insulin at the same time insulin resistance is developing during pregnancy. Insulin is a hormone that lets blood sugar enter the body's cells to use as energy.

What increases the risk of gestational diabetes? Women are more likely to have gestational diabetes if they:

Have a family history or sibling with Type 2 diabetes.
Had gestational diabetes during a previous pregnancy.
Are overweight and not physically active.
Are older than 25 years old.
Have a hormone disorder called polycystic ovary syndrome.
Are African American, American Indian, Asian American, Hispanic or Pacific Islander American.

How will I know if I have gestational diabetes? Gestational diabetes can occur even if there are no noticeable symptoms. Increased thirst, tiredness and frequent urination are possible signs. Monitoring and testing by a health care professional is necessary even if symptoms are not apparent.

When and how will I be tested? Between 24 and 28 weeks of pregnancy women are usually tested for gestational diabetes. Those with higher risk may be tested earlier. Blood tests are used to show how well the body uses glucose and to diagnose gestational diabetes.

How is gestational diabetes treated during pregnancy? Women with gestational diabetes may need to continue to test their blood sugar and monitor their health. Increased fetal monitoring might also be needed. Lifestyle changes, such as following a healthy eating plan and safely staying active, will be advised. Some women may also need insulin or other medications.

How does gestational diabetes affect mother and child? It may lead to serious health problems, such as high blood pressure during pregnancy and complications in delivery. Babies may be affected by higher weight, preterm birth, low blood sugar and increased odds of stillbirth.

After delivery, will diabetes continue? Having gestational diabetes doesn't mean chronic diabetes will occur after delivery. However, women who have had gestational diabetes face greater odds of future health problems and increased likelihood they will have gestational diabetes again. Plus, both mother and child have a higher risk of developing Type 2 diabetes later in life.

What lifestyle changes can help lower the risk of gestational diabetes before and during pregnancy?

Start your pregnancy at a healthy weight.
Eat a balanced diet.
Get or stay active.
Follow your health care team's advice about how much weight to gain during pregnancy.
Schedule and attend all recommended health care appointments.
Dr. Jennifer Lewey is an American Heart Association volunteer medical expert specializing in heart disease in women, including during pregnancy.
To learn more about safeguarding your health during pregnancy, visit goredforwomen.org/pregnancy.
---