25 Ways to Move More During Summer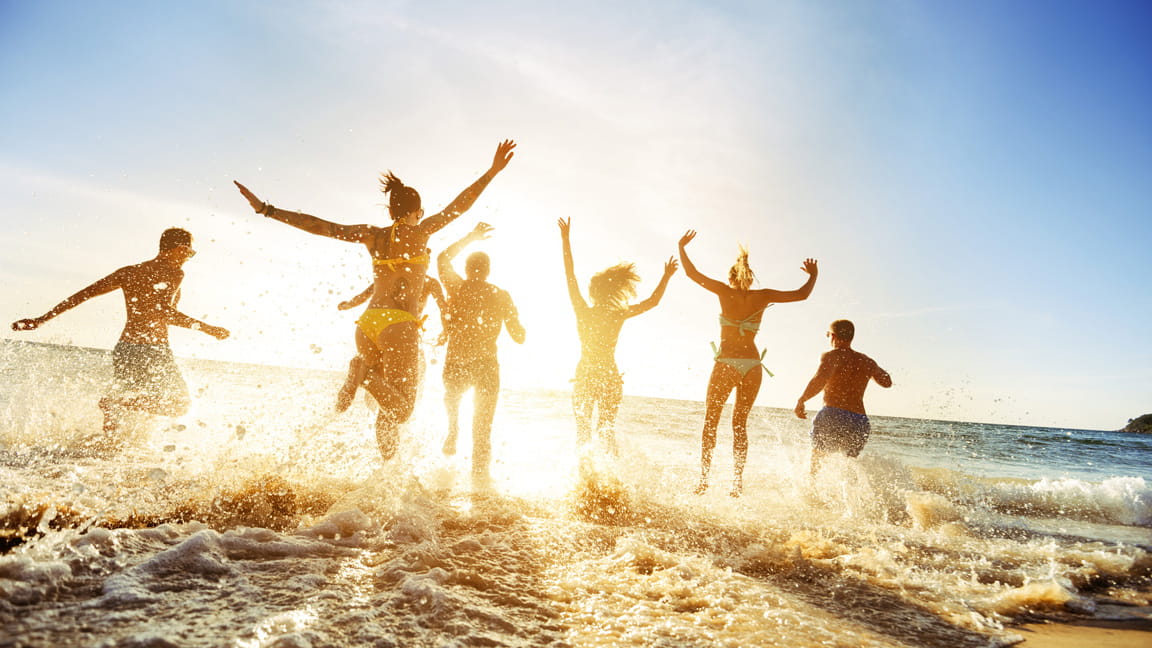 With the onset of summer and warmer weather, there are plenty of "out of the box" ways to get exercise, #movemore and be more physically active without hitting the gym.
The benefits of an active lifestyle are too numerous to count.1 But maybe you're tired of the same workout routine or need a way to get motivated after an inactive start to the year. Whether you've been on the treadmill all winter long, or hibernating like a bear to avoid the cold, here are 25 ways get moving while the weather is warm.
1. Gardening
If your backyard is starting to look like a jungle, transforming it into a serene garden paradise could be a boost for your body and your mind.2 Hauling bags of topsoil will feel like a trip to the gym while letting you enjoy the fresh air.
2. Spring Cleaning
The garage is cluttered, the front door needs painting, and the gutters are full of leaves. It's the perfect time of year to have a yard sale or to get those household repairs done before winter rolls around again.
3. Fur Kid Frolicking
Sparky and Fido love the warm weather as much as you do, so get moving together. Studies show that dog owners already get in more leisure exercise than the average person. Why not kick it up a notch at the dog park for an off-leash chase?3
4. Shopping
You've been searching for that perfect lamp to complete the living room. Forget the online searches and go local by shopping for antiques or strolling through an outdoor market to see what you can find.
5. Get Rolling
Even if it's been awhile since you've pedaled around the neighborhood, it'll be easy to get back in the saddle. There's a reason they say, "It's like riding a bike." Or maybe you love rollerblading or skating. Get on those wheels and go!
6. Commuting
Speaking of bicycles and skates, use the warm weather as an opportunity to leave the car in the driveway and get to work using your own power. Not only is it good exercise, you'll spare the air pollution, too.
7. Running
Keep it old school and move on your own two feet. If you've dreamed of accomplishing a marathon, or just want to start with a 5K, now's the time to start training with a brisk walk, and maybe then move to a light jog down a local path. Start small to add this beneficial activity to your life.4
8. Swimming
Your local beach, lake or pool offers the perfect place for some great, low impact exercise that's correlated to lower mortality rates.5 Dive in and get splashing!
9. Boating
If you don't want to get in the water, consider getting on it. Try kayaking or white water rafting down a river. Or, if it's serenity you seek instead of adventure, paddle out to a peaceful cove and do a little fishing.
9. Rock Climbing
Safety first, but it you know how to climb or have an instructor who can help, rock climbing is an invigorating way to turn the outdoors into your own gym, where cliffs and mountaintops become your weight machines and pull-up bars.6
10. Hiking
The wildflowers are blooming, the birds are chirping, and spring is in the air. Get out in nature and enjoy the most beautiful time of the year!
11. Capturing the Scenery
Turn your outdoor excursion into an art project. You don't even need fancy equipment, anymore — that high-tech camera on your phone was made for more than selfies, so flip it around and snap some landscapes. Or, leave the tech behind altogether and try your hand at drawing or painting what you see.
12. Studying the World
If art isn't your thing, maybe science is. Go bird watching or learn about the species of plants and animals in your area. You can press plants, too, as a beautiful way to save and show off your floral specimens.7
13. Produce Picking
Instead of hitting the grocery store for your fruit and vegetable needs, try a local farmers market for the freshest produce. Or, better yet, go fruit picking at a local orchard to get it right from the source.
14. Partying Around Town
Check out local events that will get you out of the house. It's the time of year for music festivals in the park that will have you dancing, and county fairs where a solid throwing arm could win you a prize (just skip the deep fried Oreos).
15. Joining a League
You don't have to be a professional to get to the big game. See if your city offers organized sports, like softball or flag football leagues. You might just unleash your inner athlete and take home the trophy.
16. Packing a Picnic
If your town doesn't have a happening party scene or organized sports, create one of your own. Host an event at the park, with horseshoes, badminton, volleyball, or any number of games that will get the neighborhood involved.
17. Targeting
For the introverts out there, you might want to skip the team sports and crowded fairs, but don't miss out on the outdoors. Try a solitary sport, like archery, which focuses the mind and is a lot more work for the body than you might realize.8
18. Skydiving
For the super-adventurous thrill seeker, there's the ultimate rush from skydiving. It can actually strengthen back muscles and improves flexibility, so there's a lot more to it than just falling.9
19. Flying Toys
For the tech geeks of the world, there are plenty of ways to leave the man cave and still play with your toys. Venture out to an open meadow and fly an electronic drone or remote-controlled helicopter. There might even be a local league to join for a little competition.
20. Stargazing
When the warm weather stretches into the night, it's time to look to the stars. Hike up to the top of a hill and turn it into your own planetarium. Better yet, make an event out of the Perseid Meteor Shower that usually occurs in July and August!10
21. Treasure Hunting
There's buried treasure out there! Get ahold of a metal detector to see what might be buried in your own front yard. Or get an app and try geocaching, where you use GPS directions to find surprises and fun treasures that others have hidden in your own neighborhood.11
22. Larping
There are those of us who feel most at home with video games or playing Dungeons and Dragons in the basement. Why not take those adventures to a whole new level and try larping? There's probably a local group where you can trade in those imaginary weapons and spells for foam swords and bean-bag fireballs to bring the action into the real world!12
23. Plogging
You love the outdoors for its beautiful scenery and fresh air — and you can help keep it that way for generations to come. Plogging is a Swedish term that refers to picking up litter as you explore the outdoors. Think beach clean-up but done anytime you're out.13 A bit of exercise and the knowledge you helped keep the world clean? Sounds like a good deal!
24. Forest Bathing
If you really want to immerse yourself in nature, try forest bathing. It isn't what it sounds like — you don't actually soak in a tub among the trees. Instead, you meander through the forest, and get in touch with the outdoors. The experience of immersing yourself in a forest has been shown to improve immunity and mood.14
25. ACTION: Start Moving
Pick one of these awesome summer activities and commit to doing it this weekend. You don't have to hit all 25 activities on this list, of course. Just choose one that appeals to you.
Now, whether you're a thrill seeker or a forest bather, get outside and get moving so you can be healthy for good!
Last Reviewed 07/2018
Sources:
1Warburton DER, Nicol CW, Bredin SSD. Health benefits of physical activity: the evidence. CMAJ : Canadian Medical Association Journal. 2006;174(6):801-809. doi:10.1503/cmaj.051351.
2Soga M, Gaston KJ, Yamaura Y. Gardening is beneficial for health: A meta-analysis. Preventive Medicine Reports. 2017; 5:92-99. doi:10.1016/j.pmedr.2016.11.007.
3Yabroff KR1, Troiano RP, Berrigan D. Walking the dog: is pet ownership associated with physical activity in California? Journal of Physical Activity and Health. 2008;5:216-228.
4Hespanhol Junior LC, Pillay JD, van Mechelen W, Verhagen E. Meta-Analyses of the Effects of Habitual Running on Indices of Health in Physically Inactive Adults. Sports Medicine (Auckland, N.z). 2015;45(10):1455-1468. doi:10.1007/s40279-015-0359-y.
5Chase NL, Sui X, Blair SN. Swimming and All-Cause Mortality Risk Compared With Running, Walking, and Sedentary Habits in Men. Int J Aquat Res Educ. 2008;2(3):213-223. doi: 10.25035/ijare.02.03.03.
6Siegel SR, Fryer SM. Rock Climbing for Promoting Physical Activity in Youth. American Journal of Lifestyle Medicine. 2015;11(3):243-251. https://doi.org/10.1177/1559827615592345.
7How to Press Flowers. WikiHow Website. https://www.wikihow.com/Press-Flowers. Updated June 18, 2018. Accessed June 18, 2018.
8 HEALTH BENEFITS OF ARCHERY. WorldArchery.org. https://worldarchery.org/news/147916/8-health-benefits-archery. May 2, 2017. Accessed June 17, 2018.
9Top 10 Health Benefits of Skydiving. Health Fitness Revolution. http://www.healthfitnessrevolution.com/top-10-health-benefits-skydiving/. May 7, 2015. Accessed June 17, 2018.
10Perseid Meteor Shower 2018: When, Where & How to See It. Sarah Lewin. https://www.space.com/32868-perseid-meteor-shower-guide.html. January 23, 2018. Accessed June 17, 2018.
11Geocaching 101. Geocaching Website. https://www.geocaching.com/guide/. Updated June 18, 2018. Accessed June 18, 2018.
12LARPing 101 - Getting Fit the Nerdy Way. TheJerd. http://www.thejerd.com/larping-101-getting-fit-the-nerdy-way/4156/. February 20, 2015. Accessed June 17, 2018.
13'Plogging' is the Swedish fitness craze for people who want to save the planet. It's making its way to the U.S. Allison Klein. https://www.washingtonpost.com/news/inspired-life/wp/2018/02/23/plogging-is-the-swedish-fitness-craze-for-people-who-want-to-save-the-planet-its-making-its-way-to-the-u-s/?noredirect=on&utm_term=.0825499267ac. February 23, 2018. Accessed June 27, 2018.
14Li Q1, Otsuka T, Kobayashi M, et al. Acute effects of walking in forest environments on cardiovascular and metabolic parameters. European Journal of Applied Physiology. 2011;111(11):2845-53. doi: 10.1007/s00421-011-1918-z.
---