Heart Attack and Stroke: Every Second Counts (Wallet Card)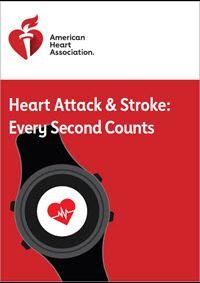 Published by: American Heart Association

Product code: 50-1723

Because every second counts...our affordable wallet card is a fast, easy way to help people recognize the warning signs of a heart attack and stroke. It's ideal for distributing to patients, employees, and in any community setting to increase awareness. Compact size easily fits in wallets and purses.

Request a Sample

If you are interested in receiving a warning signs information packet containing this wallet card, please complete our product order form. Requests are limited to residents of the United States and to no more than one packet and two brochures per household.

Bulk Orders

If you are interested in placing an order, receiving print samples or viewing online e-samples, visit our distributor, Krames. Registration is required to request samples and order online.
---