Prioritizing care for others, women often neglect their own health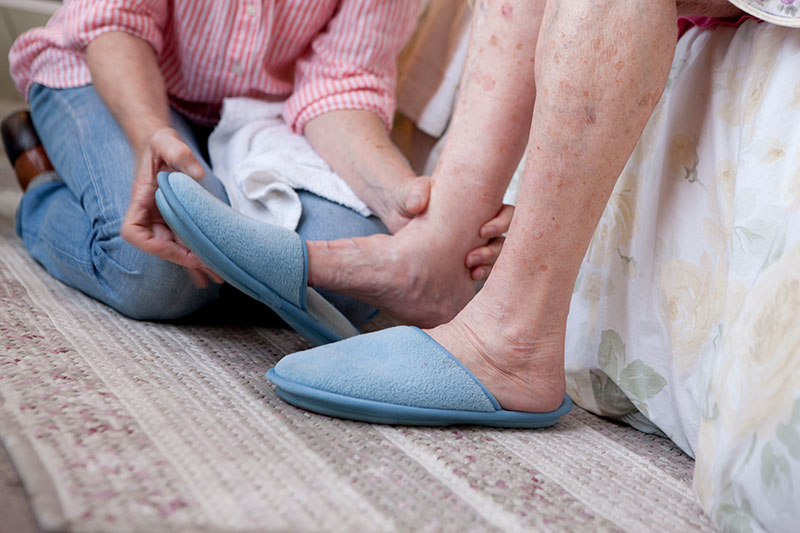 It can be overwhelming to care for a loved one with a serious medical condition, a situation that can become even more complicated when juggling work and home obligations.
Women are often so focused on taking care of others they neglect their own health needs. In fact, a survey from the nonprofit foundation Transamerica Institute found that 55% of caregivers said their own health took a back seat to the health of the recipient.
"But putting yourself first is an important step in making sure you're healthy enough to look after your loved ones," said Dr. Jennifer Mieres, a professor of cardiology at the Donald and Barbara Zucker School of Medicine at Hofstra/Northwell. "Scheduling time for you on your daily list is really important."
Finding time can be tough. Caregivers spend an average of 50 hours per month caring for someone, and 36% of caregivers spend 100 or more hours per month, according to the Transamerica Institute survey. More than half of the 3,000 nonprofessional caregivers surveyed were also employed full-time. Most of them had to make some type of adjustment at work because of their caregiving duties.
The cost of caregiving for those with heart disease and stroke in the U.S. is projected to increase from $61 billion in 2015 to $128 billion by 2035. Informal caregivers — often unpaid family members or friends helping a relative or someone with an ongoing illness—are expected to increase as the baby-boomer generation ages.
The coronavirus pandemic has created added pressures and complications. Stroke survivors and those with heart disease, including high blood pressure and congenital heart defects, may face an increased risk for complications if they become infected with COVID-19. People with diabetes, compromised immune systems, chronic lung diseases and other underlying conditions also may be at risk of more severe illness if they contract coronavirus, according to the U.S. Centers for Disease Control and Prevention.
As the roles of informal caregiving expand, it's even more critical to find coping strategies, said Dr. Barry London, the internal medicine chair at the University of Iowa Carver College of Medicine. "It can expand to really consume your life."
Here are some tips for keeping healthy when caring for others:
Don't try to do it alone. Make sure others are available to help to avoid exhaustion, isolation and added pressure.


Stay informed. Caregivers who must operate or oversee medical equipment may worry about something going wrong, possibly even resulting in the patient dying, London said. The more a caregiver can learn about the medical condition, the more confident they can feel in assisting.

"There's a period of, 'Oh my God, what have I gotten myself into?'" he said.

The rapidly changing coronavirus pandemic has made staying informed of guidance from state and local officials even more important. You can find updates and reliable information at the CDC website.


Take breaks and maintain social connections. Dedicate time during the day or week to exercise or find something else that's fun to do. And maintain outside relationships while following physical distancing guidelines to reduce the risk of COVID-19 infection so the role doesn't become a "social drain," London said.


Maintain your physical and mental health. Following a healthy diet, getting enough sleep and receiving regular medical checkups are all important. Caregivers also should pay attention to warning signs of depression and talk to health care professionals if they need mental health help.


Nurture relationships. Maintaining a good rapport between the caregiver and the care recipient is important. "The better the relationship between the patient and the caregiver," London said, "the better it is for both of them."


Reduce your risks. As stay-at-home orders fluctuate, it's important to minimize risks by maintaining physical distancing, avoiding crowded areas, continuing vigorous handwashing and regularly cleaning and disinfecting surfaces.


Seek medical attention when needed. If you have an emergency, such as heart attack or stroke symptoms, call 911. Some hospitals are crowded due to COVID-19, but emergency systems have plans in place to ensure safe, appropriate treatment.

Don't die of doubt. When an emergency strikes, hospitals are still the safest place — even during a pandemic. Getting care as soon as possible improves the chances of survival, and first responders are trained to avoid spreading germs.


Stay in contact with your health care professionals. Keep your health care team's contact information handy, and ask whether electronic consulting or instant messaging options are available. Ensure you have enough medicine for an extended period of time and know how to get a refill if you can't leave the house.


Make a COVID-19 plan. Identify additional caregivers in case you get sick. Make sure there's a separate bedroom for the patient to recover in while isolating from others, maintain cleaning protocols and stay in close contact with the health care team.
---