How to Eat More Fruit and Vegetables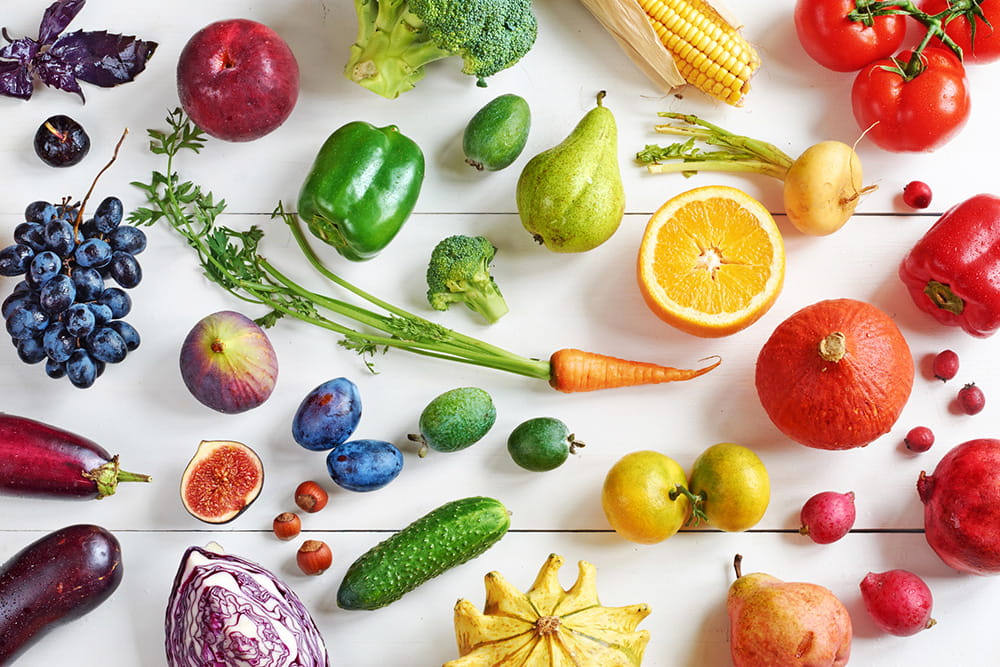 Adding more fruit and vegetables can provide you a wide variety of health benefits, including weight management. Whether you cook at home or eat out, adding more colorful, nutritious and delicious vegetables and fruit into your snacks and meals is important for a healthy eating pattern.
Which fruits and vegetables are best?
The fact is that they're all good for you. When you eat many different types of fruits and vegetables, you'll get a variety of vitamins and minerals to support good health. The American Heart Association suggests filling half your plate with fruits and veggies as a way to meet the recommendation of 4½ cups of each every day.
All produce counts towards the goal of 9 cups, including canned, fresh and frozen fruits and vegetables. When shopping for canned or frozen fruit and vegetables, be sure to compare Nutrition Facts labels and choose the products with the lowest amount of sodium and added sugars.
All fruits and vegetables contain vitamins, minerals and other nutrients that may help prevent heart disease, cancer and other illnesses. Some of these nutrients are fiber, potassium, folate, and vitamins A and C. The best way to get more nutrients is to eat fruits and vegetables of many different colors. The five main color groups and examples in each group are listed on the Eat More Color infographic.
Here are some ways to include fruit and vegetables in your meals and snacks throughout the day:
Breakfast
Add fruit to whole-grain cereal, such as sliced bananas, raisins or dried unsweetened cranberries.
Add fruit to plain fat-free/low-fat yogurt or fat-free/low-fat cottage cheese such as berries, sliced cherries or pineapple.
Add fruit to oatmeal, such as sliced peaches, apples or pears.
Eat whole fruits. However, if you drink fruit or vegetable juice, keep your serving to ½ cup, and be sure it's labeled 100%. Skip fruit drinks, punches or fruit cocktails. They are often loaded with excess sodium and/or added sugar.
Add chopped vegetables, such as onions, bell peppers and/or spinach, to eggs.
Lunch
Choose a fruit or vegetable salad as your entree.
Bulk up a sandwich with vegetables, such as cucumber spears, sliced tomato, sliced avocado and dark green leafy lettuce.
Enjoy a bowl of soup that's full of vegetables. You can make easy soup recipes at home. If you buy canned soups, be sure to compare the Nutrition Facts labels and choose the product with the lowest amount of sodium.
Choose celery sticks or baby carrots with a dip as a side dish instead of chips.
Snacks
Wash and cut raw veggies, such as bell peppers, celery, carrots, radishes and broccoli, ahead of time so they're easy to grab for a snack. Pair them with a healthy dip.
Prepare snack bags with dried fruit, such as raisins, dates or unsweetened apricots and dry-roasted nuts, such as pecans, almonds and walnuts. (Although nutritious dried fruits and nuts are high in calories, so enjoy as a ¼ cup-serving.)
Keep grab-and-go fruit, such as grapes, cherries, oranges and bananas, easily available when you're on the run.
Enjoy eating frozen fruits or vegetables, such as grapes, peas or sliced bananas.
Dinner
Fill half your plate with vegetables and/or fruit.
Keep lots of frozen vegetables on hand. They can be easily steamed or microwaved within minutes while the entree is cooking.
Bake or roast vegetables, such as a sweet potato or asparagus if you're using the oven for an entree.
Always add extra chopped vegetables, such as sliced, celery, carrot rounds, chopped tomatoes or spinach, to any soup stew or sauce.
Stir in cooked frozen or leftover vegetables, such as peas, chopped asparagus or sliced mushrooms, halved Brussels sprouts, to cooked brown rice.
Throw some vegetables, such as sliced zucchini or yellow squash, corn on the cob, halved bell peppers, on the barbecue too when you're grilling chicken or another entree.
Make extra vegetables so you can easily have them again for another meal.
---