Real Woman Alumni 2018-2019 Molly Schroeder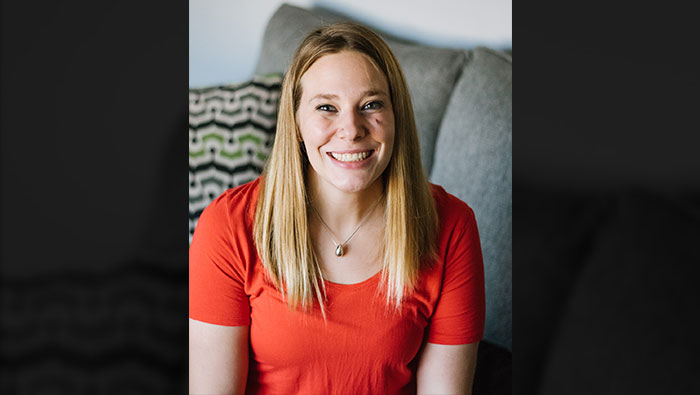 Six weeks after losing mom to heart disease, 21-year-old soccer player has heart attack caused by previously undiagnosed congenital condition.
In 2012, Molly Schroeder's mom died from a pulmonary embolism, triggered by complications after knee surgery. She had been grappling with cardiomyopathy for more than a decade and had high blood pressure, adding to her risks.
But Schroeder, then 21 and a college soccer player, never fathomed that she could too be at risk of a blood clot, let alone a heart attack.
Six weeks later, Schroeder had returned to St. Norbert College, near Green Bay, Wisconsin, and was relaxing in her apartment after a run when she began feeling strange.
"There was a squeezing feeling in my chest and it felt like someone was pushing a dagger in my heart," she said.
Her head felt foggy as she tried to process what was happening. She was sweating profusely, while feeling cold at the same time.
"I thought I was having a panic attack because it was so soon after losing my mom," she said.
Schroeder called her dad, who urged her to go to the hospital. She staggered to a remote parking lot with her roommates, who shuttled her to urgent care. By then, Schroeder's symptoms were worsening. She rode to the clinic with the windows open, fearing she would get sick in the car, and found it difficult to sit up due to the pain.
After an EKG showed she may be experiencing a heart attack, Schroeder, was sent to the ER, where additional testing revealed a blood clot had created a 90 percent blockage in one of her main coronary arteries.
Schroeder was given medication to treat the clot and underwent cardiac rehab. Testing showed she had a genetic blood clotting disorder, meaning she would have to give up her lifelong passion: soccer.
Schroeder was told that the clotting disorder, along with a previously diagnosed hole in her heart – called an atrial septal defect, or ASD – were likely to blame for the clot-inducing heart attack.
Schroeder had been diagnosed with an ASD when she was 12, part of testing she and her brother underwent following their mother's cardiomyopathy diagnosis. At the time, doctors suggested monitoring to see if the hole would close on its own. When the hole went undetected during a scan when Schroeder was 14, they assumed the issue had resolved.
Schroeder continues to consult with doctors about closing her ASD and carries nitroglycerin capsules in case she experiences angina – a signal that her heart is not getting enough blood. She also takes medication to thin her blood and control cholesterol to lower her risks for future blood clots or heart attack.
Schroeder had to give up soccer and any other contact sports, so she turned to running, walking and hiking for exercise, keeping her heart rate below 170 to avoid unnecessary strain.
"I used to go for a run if I was bored, but now, I track my activity and make sure I'm doing it consistently," she said.
She also pays more attention to her diet, particularly sodium levels, in an effort to protect her heart health. About 45 percent of U.S. deaths caused by heart disease, stroke and Type 2 diabetes are because of poor dietary habits, such as high sodium intake, high sugary drink consumption and low intake of fruits and vegetables. Too much sodium can raise blood pressure, and high blood pressure raises the risk of heart attacks and stroke.
Heart disease is the No. 1 killer of women, claiming more lives than all forms of cancer combined. Stroke is the second-leading cause of death in the world.
"I want to keep my heart as healthy as I can. I read labels and watch my sodium very carefully," she said. "I don't know if I'll have another heart attack or blood clot, but my life still goes on and I have many things to look forward to."
Now 28, living in Sturgeon Bay, Wisconsin and working in marketing, Schroeder hopes her story will raise awareness about the different symptoms women may experience than men while having a heart attack, as well as awareness about heart health at every age.
"I was 21 and in the best shape of my life and had a heart attack," she said. "It could happen to anyone so it's vital to know your family history. Starting your health journey when you're young, understanding how diet, exercise and sodium can affect you, is so important."
---