How to Find the Right Cardiologist for You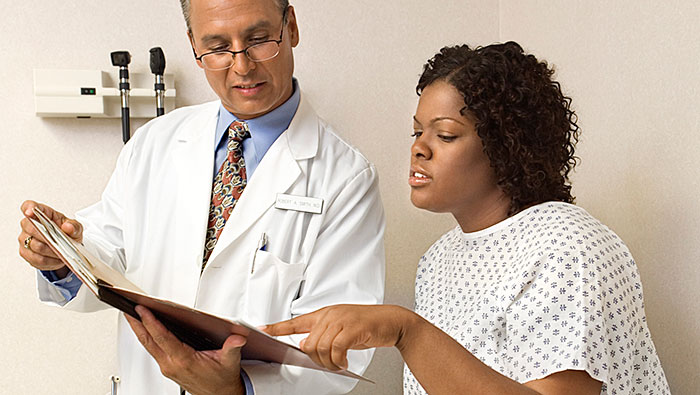 Erika Perez knows the importance of monitoring her heart health. Ten days after having her third child, a healthy baby boy, Erika was fighting for her life. She felt dizzy, fatigued. But she ignored the symptoms for days, thinking it was just indigestion. In fact, she'd suffered a massive heart attack.
"I knew the symptoms but I refused to believe it was something as serious as a heart attack," Erika says. "The pain grew and spread to my back and my jaw and I couldn't move my fingers. I was very scared."
Luckily for Erika, the blood flow to her heart muscle was successfully treated, despite a 100 percent blockage in one artery. She survived and immediately began an intensive cardiac rehab process.
Erika's experience is not a unique one. And it serves as wakeup call to all women that the right doctor, and the type of relationship you have with him or her, can be the difference between winning the battle against heart disease, or losing it.
Chemistry is key.
Finding a doctor you feel comfortable with and whose communication style matches yours is one of the most important factors in choosing the right doctor to treat your heart health. Do you prefer someone who is very straightforward? Is a nurturing, friendly demeanor important to you? Is a combination of those qualities and traits closer to what you're looking for?
Only you can answer those questions, so don't feel obligated to go with someone because everyone claims he or she is the best – the best for one woman may not be the best for you. And don't be shy about asking a lot of questions. Do some research, go in with a prepared list of questions, and ask for clarification or a follow-up if needed.
What's your specialty?
You did your research and found a doctor that you can communicate openly with. But it turns out this wonderful doctor doesn't specialize in your condition. What now?
There are a few steps to take to find a specialist
Start with your primary physician. If you've been seeing your primary care doctor for a long time, they should have a good grasp of your medical history and can easily organize and prepare your information for a specialist to review.


Share your preferences. Your primary care doctor likely has several qualified specialists for you to choose from. Simply share your needs and preferences and your doctor can help you weed out ones who aren't a good fit.


The search shouldn't end there. Research specialists on your own. A good place to start is with the hospitals in your area, and checking out the bios of the specialists on staff.
If needed, get a second opinion
Survivors like Rekisha know the importance of being your own health advocate. Doctors dismissed her health concerns as being related to her pregnancy, assuring her that her symptoms were normal. The doctors were wrong. "See as many doctors as necessary to be sure your voice is heard," she urges.
Stand up for yourself.
Don't be surprised if it takes a second medical opinion or third or fourth before you get the treatment you need. For Lidia Morales, it took three doctors before she received an accurate diagnosis. If it wasn't for that extra opinion, doctors would have continued to treat the wrong problem, and Lidia may not be around today to share her story. "I could've easily died if I hadn't pushed for another opinion and more tests," says Lidia. "I always tell people that no one knows you better than you!"
How to find the right cardiologist.
Instead of relying on Google to find you the best doctor in your area, try talking with your friends and family first. If referrals are coming up short, Dr. Susan Bennett, a cardiologist at Washington Hospital Center and MedStar Heart Institute in Washington, D.C., recommends calling a local hospital.
"Hospitals are usually great at giving referrals," she says. "Your primary care physician can also be an excellent source."
At your first appointment with your new physician, pay attention to their bedside manner. Bennett says a good cardiologist will ask probing questions and try to sift out the most important details of your medical history. They will also address prevention. Throughout your conversation, take notes if you feel rushed.
"A good doctor will spend time with a patient to answer all of their questions and concerns," she says.
Important: don't worry about changing doctors. If you feel like your physician isn't the right fit for you, switch without hesitation. From the doctor's perspective, Bennett says the change usually ends up being the right thing for the patient and the physician.
How to develop a positive relationship with your heart doctor.
Those of us who suffer from heart disease know the value of establishing a positive relationship and trust with your cardiologist. Receiving a heart disease diagnosis can be frightful and unnerving; but when you have a trusting, positive relationship with your cardiologist, the experience can feel a bit easier to handle.
How to be a good patient.
Honesty is the key to a positive patient/doctor relationship. While it can be intimidating to share the dirty details of your family medical history, your eating habits and your exercise regimen (or lack thereof), all of those pieces of information are vital components to the overall picture necessary for your cardiologist.
Some patients will want to sidestep important issues, which can make it difficult to establish trust in the relationship," Bennett says.
Coming prepared to your appointment will also strengthen your kinship, she adds. Upon booking your next meeting, sit down and write your list of medications with exact dosages. That way, there won't be any confusion the next time you see your doctor.

"In addition to medications, take note of any heart-related symptoms that you are suffering from," Bennett says. "Anything you can tell us can help in our treatment of your condition."
---