How to Stay Social After Heart Disease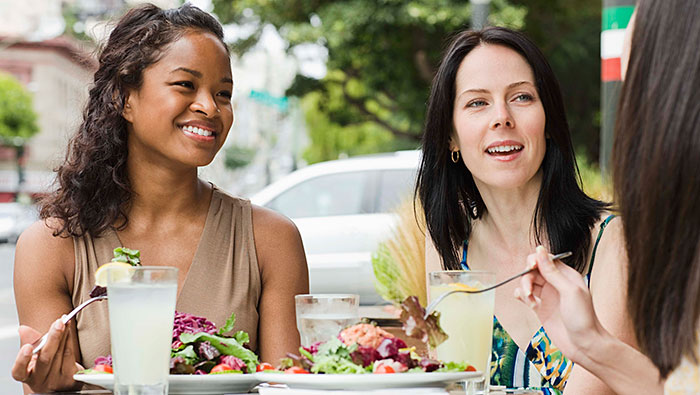 As a woman, a diagnosis of heart disease can lead to many questions when it comes to moving forward with your life. And after you've answered the vital ones, like what to eat and how to exercise, you may be left wondering about the little things (which are still important), like your social life.
A healthy diet doesn't have to be the end of your girls' night out or happy hour with coworkers. It just requires a bit of strategic planning to make sure your hard work and healthy decisions don't get lost in the social shuffle.
Try these tips to be social after heart disease from nutritionist Vilma Andari.
Research the restaurant prior to dining

The first step you can take to ensure healthy dining when you're out is to review the menu before you go, Andari says. This will give you a clear idea of what's available and help you avoid making a snap decision while ordering. If you're going to a chain restaurant, most offer a healthier version of their menu, Andari explains. "Ordering from the low-cal menu can save you up to 500 calories," she says. (So, be sure to ask for one if it's not already on the table.)

Learn to dissect the menu

As you're reviewing the restaurant's menu, Andari strongly recommends avoiding dishes that contain cream, gratin (like scalloped potatoes) and heavy cheese. To lower the sodium in your menu choice, she also recommends avoiding soy-sauce-based dishes, like stir-fry. If minimizing sodium is a priority to you, you can also ask that the chef not use salt when preparing your food. "Grilled or steamed dishes are your best bet," Andari says.

Stay moderate

Meal sizes at restaurants can be overwhelmingly large — so keep your heart health in check with portion control. Andari suggests drinking water while dining, and avoiding alcohol. (Water will help you feel full while you eat.) Another way to moderate your meal is by eating slowly. To make sure you're doing so, Andari says to chew your food 15 times per bite.

Finally, if you expect your dinner to be large and are out with a friend who shares your taste, ask the waiter if you two can split the meal. Or, if you're not in the mood to share, ask your waiter to box up half your dish.

Keep liquid calories and fatty snacks in check

An after-work happy hour is a great opportunity to catch up with friends and coworkers, but greasy snacks and sugary cocktails can make it a danger zone for your heart. Use moderation when drinking at happy hours (or anytime) and try to stick to red wine if you can. If you're avoiding alcohol, Andari says stick to diet beverages, ice tea and seltzer water. (Remember, you can always dress up seltzer with lemon or mint.) If there are small bites at your function, steer clear of dips and fried foods, says Andari, and see if you can convince the host to order something healthy, like fresh veggies or edamame.
---