Sex and Heart Disease: How to 'Get in the Mood' Post Diagnosis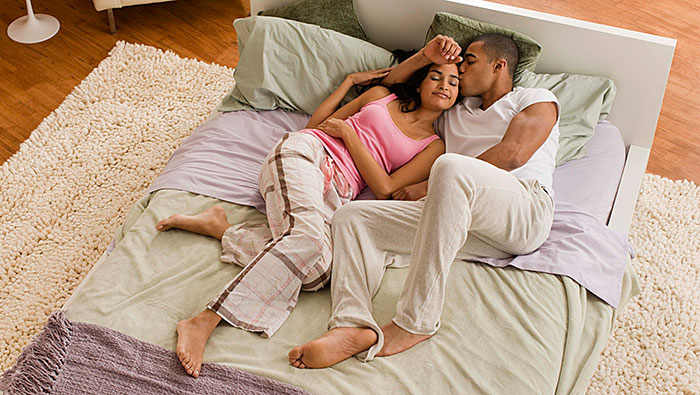 You've just been diagnosed with heart disease. You feel sad, angry and scared. Thoughts of treatment and your own mortality are flooding your head. Sex is the last thing on your mind. Will you ever be able to 'get in the mood' again?
The answer is yes. As Dr. Laura Berman, sex expert and regular guest on CNN and The Dr. Oz Show, explains, "a diagnosis is not a death sentence. It is important to look at it as an opportunity to reshape your life and take control in ways you hadn't previously."
But before you hop in the sack, talk to your physician to make sure you are physically fit for sexual activity. If you can walk up two flights of stairs without losing your breath, you should be good to go, she says.
Here are a few ways to get excited about sex again after a heart disease diagnosis.
Replenish your energy
Each of us has a finite amount of energy; if you expend it all and don't fill back up, you won't be ready for anything – least of all sex. Berman says women can boost their energy by spending time with other women. Even if you don't have a lot of time, try to schedule a quick walk with a girlfriend or take a workout class together.

"Spending time with other women helps you forget your role as a wife, sister and mother," she says. "It can be very recharging."

Yoga is another energy booster. Not a seasoned yogi? Try a restorative class focused on meditation. Regardless of the intensity, yoga can provide you an hour where you don't think about anything else, Berman says. Yoga positions also strengthen your pelvic floor, which can help during sex.
Pencil it in
"Make a sex date," recommends Berman.

She suggests establishing at least three 15 minute bedtime sessions with your partner each week. These times don't need to include sex. Instead, spend time kissing and talking about things that are not stressful in your life. Berman suggests discussing where your dream vacation spots would be, where you see yourself in 10 years and the top five things you love about your partner.

While setting a calendar invite for such a meeting may seem to defeat the purpose, Berman says it is necessary, especially for those with busy lives.

"If you want for it to happen spontaneously, it most likely won't happen," she says.

Make things more exciting by doing nice things for each other leading up to the date. Those actions will help establish your emotional connection and stimulate your libido, Berman adds.
Flip your diagnosis on its head
Instead of feeding into the fear around your diagnosis, try thinking about what is most important in your life, she offers.

"A diagnosis can be a gift," says Berman. "It can give you the opportunity to open your eyes again and recognize how important your mate is and the connection you have. And with that will come a renewed sexual connection."
Katie Morell is passionate about issues relating to women's health and wellness. As a runner and yoga practitioner, she tries to live by the advice given in her Go Red pieces. When not lacing up her sneakers or doing a downward-facing dog, she is writing for a variety of publications including Hemispheres, USA Today, Consumer's Digest and The Writer.
---