Real Women 2021 Ovuke' Emonina McCoy and Lucy Emonina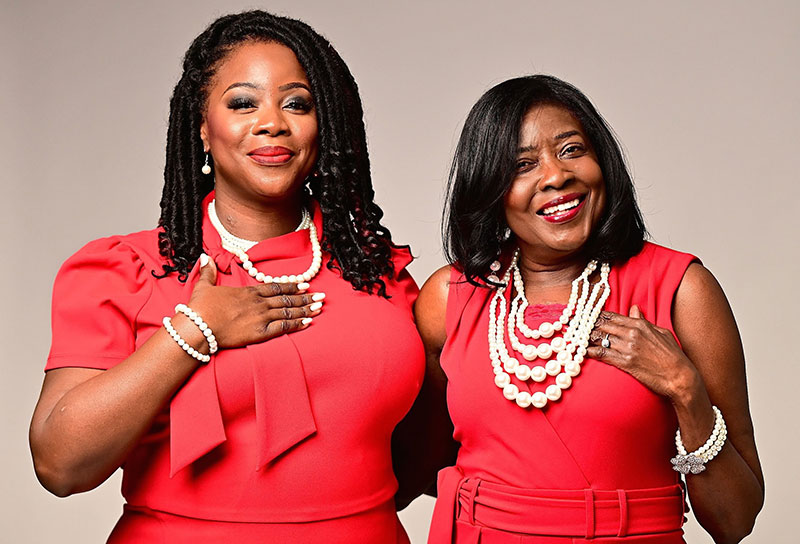 Heart transplants more than two decades apart saved the life of mother and daughter, Lucy Emonina and Ovuke' Emonina McCoy, who were both born with the same hereditary heart condition.
Heart disease is the No. 1 killer of Americans, and African Americans between the ages of 18 and 49 are twice as likely to die from it than whites. Some families bear a stronger brunt than others.
That was the case for Lucy, 67, and Ovuke', 46, who both inherited a condition called hypertrophic cardiomyopathy (HCM), a thickening of the walls of heart that makes it harder for it to pump blood. People with HCM can experience fatigue, fainting, shortness of breath, chest pain or heart palpitations and the severity of symptoms can vary. HCM can be a progressive disease that can get worse over time and lead to heart failure and increased risk of atrial fibrillation, stroke and sudden cardiac death.
HCM has taken the life of numerous family members over the years, including Lucy's two sons, who died at 27 and 34 years of age. For Lucy and Ovuke', it led to heart failure and ultimately heart transplants done decades apart.
As a child, Lucy was told she couldn't play sports like the other kids. She remained largely symptom-free until she became pregnant with her third child, when she had a transient ischemic attack (TIA), also known as a "warning stroke"and developed swelling in her ankles — one of the signs of heart failure.
At 42, Lucy got the news from her doctor: She needed a new heart. Shocked and worried, Ovuke' and other family members urged her to reconsider, but she trusted her doctor.
"I wanted to be here for my children and see them grow up," she said, noting her youngest wasn't even 4 years old. "I was ready for it."
Soon, Lucy had a new heart from an 18-year-old man. But dealing with side effects from the medication, she began to second guess her decision. When her body rejected her heart, she worried she wouldn't make it, but a change in medication calmed down her immune system. And as the months went on, she felt better and better. "They called me the star patient," she said.
Like her mother, Ovuke' had also avoided sports as a child. And as she got older, she also began to show signs of heart failure, including swelling in her arms and legs and a debilitating fatigue that grew worse with every passing year.
Eventually, she learned that she would need a heart transplant. They told her the wait might take as long as 24 months. "I didn't know if my time was running out," she said.
Indeed, in fall 2016, she had a spontaneous coronary artery dissection, a type of heart attack in which a tear in the heart blocks blood flow. And seven months later, while eating lunch with her co-worker, Ovuke' had a mini stroke, briefly losing her ability to speak or move her tongue. She remained in the hospital for a week.
A little less than four months after she was placed on the waiting list, Ovuke' got a new heart, too. She was in the hospital to have fluid drained from her abdomen when she got the news. "All I did is throw up my hands and praise God," she said.
Within two days of the transplant, Ovuke' was walking. And with the help of cardiac rehab, it wasn't too long before she was climbing stairs again.
While Lucy and Ovuke' have always been close, the grief over losing so many family members to HCM — and their own experience as heart transplant recipients — has strengthened their bond. Eager to make a difference, Ovuke' started sharing her story, speaking at events held in conjunction with her sorority, Alpha Kappa Alpha, and the American Heart Association.
"I want people, especially in the African American community, to be aware about heart disease and organ donation," she said.
---